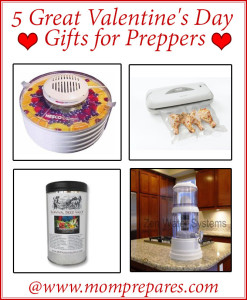 Valentine's Day is on its way and you're probably looking for gift ideas for the prepper in your life. I've found 5 great items I think any prepper would be super excited to receive – I know I'd love them for sure! My life seems to revolve around food, and I always want to make sure I have plenty on hand, as well as ways to make it last as long as possible. Here are some gifts that would surely make your loved one smile on Valentine's Day.
Nesco American Harvest Food Dehydrator – $30
Nesco American Harvest Food Dehydrator
This little beauty offers 400 watts of drying power, comes with 4 trays, and can expand to fit 7 trays, has a clear top to view the food inside, and it's made in the USA. It uses forced air, so you don't have to mess with rotating trays to ensure proper drying of everything. You can dry fruits, veggies, herbs, and even make homemade jerky in this dehydrator. AWESOME!
Seal-a-Meal Vacuum Food Sealer – $50
Seal-a-Meal Vacuum Food Sealer
With this sealer, you'll be able to securely seal quart to gallon-sized bags full of dried food for storing in the pantry or fresh food for the freezer. This particular model comes with just 4 starter bags and a removable drip tray. It'll be a bit of a money-saver if you buy bags for this machine in bulk, especially if you intend on using it to seal large quantities of food in one session.
Keep Reading for More Gift Ideas!