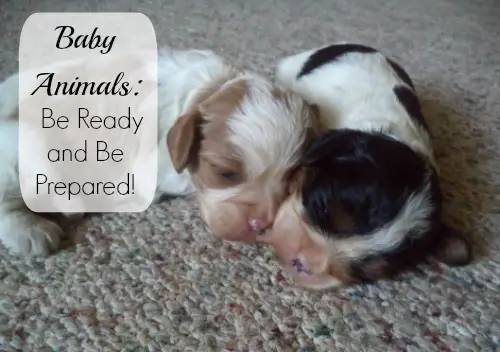 We are finally seeing signs of spring around here. Most of our trees have leaf buds on them and the flowers are starting to bloom. It was a late spring this year, here in northeastern Pennsylvania. I can look at the mountains and see them finally beginning to turn that beautiful light green color. Springtime on our homestead is a busy and exciting time. It is nearly Mother's Day at the time of this writing and that means that the planting of our garden is nearly completed. Barns are being cleaned out and spring cleaning is also taking place in our house.
Springtime is Babytime!
By far, the most exciting events here at our farm is the arrival of babies. We raise Nigerian Dwarf goats, various breeds of rabbits and Cavalier King Charles Spaniels. We also purchase baby chicks and ducklings from a local feed store. Our property sometimes feels like one big nursery!
We love the babies. No matter how many times we have had our animals give birth and have been privileged at times to actually witness the birth process, it never gets old. There is something so completely enthralling about the miracle of life. It is always such an anticipation in the weeks leading up to a birth, whether it is a rabbit, a goat, or a puppy! We hold our breath and wonder what they will look like, how many there will be and how many males/females we will have. We breath a sigh of relief when a birth happens with no complications.
Be Prepared for the Arrival
Although most births take place with zero intervention on my part, it is always important to be prepared for those times when a birth may not go so smoothly. Here are some things to consider to be prepared for new births on your homestead.
Someone To Answer Questions
Have an emergency vet or at the very least, a breeding mentor that you can call if there would be an unforeseen circumstance.
A Birth Kit
Have a birth kit on hand. Some supplies to include are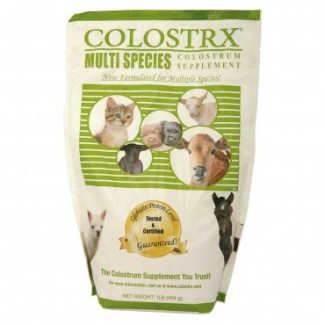 surgical gloves,
K-Y Jelly,
unwaxed dental floss (for tying off the cord) scissors that have been sterilized,
powdered colostrum that is compatible for multi species such as Colostrx, [Colostrum is absolutely vital to feed in the first 24 hours of life if the baby animal is unable to nurse from it's own mother.]
milk replacer on hand for the babies and also bottles to feed [Raw goat milk is compatible for many species as a milk replacer however if not available, you can find a powdered formula mix at local feed stores and in the case of puppies or kittens, pet supply stores.],
a scale to weigh if keeping records,
notebook paper and pens to make notes.
Sometimes you can purchase birthing kits online. For goats – Hoegger's Supply has a nice kit available for both newborns and a birthing kit.
Consider the Weather
Depending on the time of year you will have babies, you need to consider the elements and outside temperatures. In the case of baby rabbits and goats, if they are born in late winter/early spring, you may need to give them temporary shelter inside your house or basement. If your barn is very insulated, they may do fine there, however, it still will be a risk and may result in higher loss of offspring.
We have unfortunately lost baby rabbits due to the cold so we started bringing our does inside a few days before they were due to prevent this from happening. For goats and other livestock, a barn camera is an invaluable tool while awaiting the birth of your babies. You can see when your animal begins labor without having to sleep outside in the barn with them. It allows you to both hear and see your animals so you can go out to assist the birth if necessary.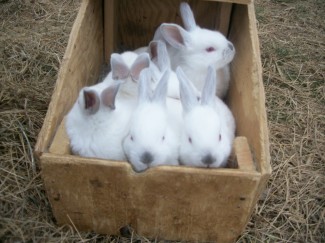 In most cases, birthing baby animals is completely done without our help, however it is wise to be prepared just in case. Babies are so exciting and it is one of life's greatest pleasures to have the privilege of witnessing. Remember that each species is unique and will be a unique experience. Be prepared for the birth and be ready to be amazed at the miracle of life!
Are there any new babies at your house this spring?