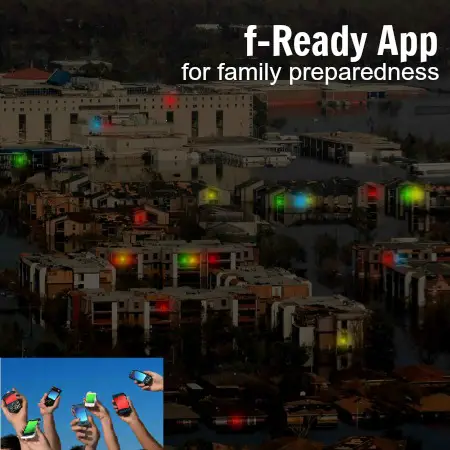 Editor's note: When Juan first emailed me after he saw my PrepareAthon presentation with FEMA I thought he was just another blogger or author looking for some free promotion on our blog. (We get a LOT of that.) After doing a little poking around I realized Juan's story, his work and his activism are truly impressive. I wanted people to know about him and his app and the work he's doing to change disaster response protocols. I'm so excited that he agreed to a guest post about his work and f-Ready App.
Many years ago I was watching the News. It was right after Katrina had struck and all you saw on TV were people waving from the rooftops of their homes/vehicles in hopes of being noticed. I started imagining myself in their shoes and wondered, what would I do once it got dark and I could not easily be seen waving my hands or shirt? I then started hearing stories of how people were getting hurt trying to break out of their attics to reach the rooftops. Then the thought came to me, lights would stick out like sore thumbs at night; they do not belong! My cellphone can transmit light, even if the network is down.
Since my mind works in colors and I'd invented a couple of lights for US Special Forces, including a triage light, I immediately thought, why not use our cellphones and smart devices (computer screens) to visually signal our location, condition and group makeup? SOS exists, but I did not see or hear of anyone using it. According to Wikipedia, SOS was first recognized in 1905, it is 2015. Technology has changed and now 90% of US adults own cellphones capable of transmitting more than just white light.
The post disaster visual 911 survivor signaling system works like this, children = red, women = green, men = blue, yellow = pets, white = catch all. Steady light = I'm here & OK, flashing light = I'm here & need medical assistance. I imagine parents attaching little red lights to the backpacks of the children before they go to school or when they go out and play in the evenings and instructing them if caught in a disaster, turn on the red light so that responders can more easily locate you. Pet owners could purchase yellow collar lights and use them on a daily basis when taking their pets out for walks in the evenings. If ever caught in a disaster they would be ready to voluntarily participate with something they use every day. Those caught without apps or color capability could use regular flashlights, the LED on their cellphones, or keychain lights to signal. The purpose of the colors is simply to convey additional information. I believe the more a responder knows before he arrives at a scene the better.
For example responders need to approach children differently than adults during mass casualty incidents. Here is a link to very good article on the topic of pediatrics in disasters. The third paragraph follows, "The children inside couldn't follow directions, didn't understand what was going on, hid in terror from the sights and sounds of the disaster, were unable to self-evacuate, and ran screaming from the hazmat team in their frightening, alien-appearing chemical suits."
Another benefit to the colors is that families could signal neighboring families and convey their status to each other. This helps since as responders come upon survivors those survivors can convey information regarding others.
I have done several things to promote and encourage the idea and I hope you will join me in having a post disaster visual 911 survivor signaling recognized. Following are some of my efforts:
Developed and published two free apps that utilize a color coded signaling system:
a. Disaster ID app – simply turns on your screen to start using it as a nighttime visual signaling device
b. f-Ready app – Turns your screen on to signal and transmits an email to three family/friends letting them know you are in alert status, the email includes a link to Google maps showing your general GPS location and it also includes instructions to find you by searching for the visual signal in the GPS area. You can try it from your computer here. The f-Ready app is recommended by doctors!
Currently have the topic up for discussion at DHS's Science & Technology website regarding the National conversation on the responder of the future. Register (only takes a minute), sign in, and scroll down to the second most active post. You can vote the topic up and leave a comment if you would like. By participating you will help bring the topic up for discussion by DHS.
In 2013 and now in 2015 have been successful in having bills introduced to the Texas legislature that would establish the post disaster visual 911 signaling system. You can read the bill here. A substitute bill was submitted prior to the hearing that removed certain language. Here is a link to the hearing. (bill starts at 59:58 and ends at 1.07:24.) If you are from Texas please contact any or all of the following Representatives and ask that HB1970 be brought up for a vote. Here is the list:
Rep. Larry Phillips (Chair) – http://www.house.state.tx.us/members/member-page/?district=62
Rep. Poncho Nevarez (Vice Chair) – http://www.house.state.tx.us/members/member-page/?district=74
Rep. Will Metcalf – http://www.house.state.tx.us/members/member-page/?district=16
Rep. Molly White – http://www.house.state.tx.us/members/member-page/?district=55
Rep. DeWayne Burns – http://www.house.state.tx.us/members/member-page/?district=58
Rep. Tony Dale – http://www.house.state.tx.us/members/member-page/?district=136
Rep. Eric Johnson – http://www.house.state.tx.us/members/member-page/?district=100
Rep. Joseph Moody – http://www.house.state.tx.us/members/member-page/?district=78
Rep. John Wray – http://www.house.state.tx.us/members/member-page/?district=10
Recently utilized the post disaster nighttime visual survivor ID signaling system during a National level ESF-9 training exercise. I could not tape while I was signaling but once the responder saw the signal he started to shout out that he saw me and immediately started assessing my condition by shouting out questions like what was my name, what day was it, was I OK, etc. Here is a link to a video after the initial verbal contact. You can hear his follow up questions and
then the other responders finding me. Important thing to note is even though I was seen first I was not removed first. Due to me signaling the responders found a second more seriously hurt victim. My signaling indirectly got her rescued faster than she would have been and potentially contributed to her survival.
I hope you all decide to become involved in establishing a nighttime post disaster visual signaling standard in your State and hopefully one day soon we'll have a National standard. Don't forget if you're from Texas call your Reps office and ask them to push for a committee vote on HB1970. If you would like to get involved in the 2016 legislative push or for the possible 2017 legislative push please contact me at jc@triagelights.com .
Lastly, please make sure to include the f-Ready app as part of your family's emergency preparedness plans. Communicate you're in alert with a press of the button.
Meet the Author: Hi, I'm Juan, a US Citizen. Lived in Texas my whole life. Graduate of UTSA with a Bachelors in Finance (class of 91). Licensed US Customs House Broker since 1993. Became an inventor in 2004 when I started the triage light project at the request of a special operations medic. At that time I sold all my belongings including my paid for home and decided to start this journey with lights and colors simply because one of our soldiers needed something and no one made it. Today I have developed several lights for the military and continue my journey to help improve patient survival rates whether it be via the triage lights and bringing awareness that a piece of triage tape or triage paper tag is not sufficient during nighttime mass casualty incidents or by promoting the establishment of a post disaster visual 911 signaling system. Biggest honor to date is having received a US flag from a US Soldier. Reading the certificate still gives me goose bumps. :)