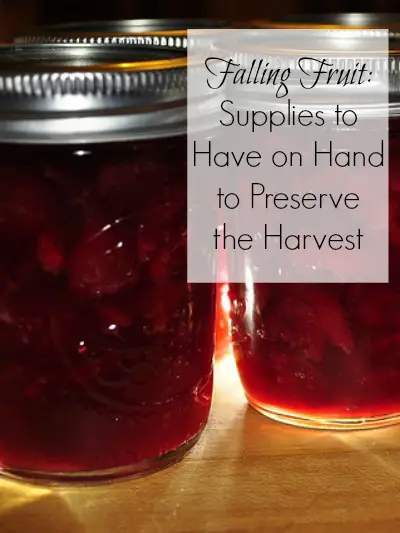 Last week we were on the verge of a peach tragedy. I'd gotten a number of peaches, taken a look at them, and left them overnight ready to be canned the next morning. When I took a look at them the next day, I was horrified. I'd missed the fact that many were overripe and needed to be canned right away. Many were rotten, and an equal number weren't really salvageable for canning. A few were still perfect. I can't stand wasting food, but what was I to do? Luckily, I have a number of backup strategies for rescuing fruit, so we managed to salvage the majority of it.
Whether you have a fruit catastrophe or inherit a lot of fruit from someone's tree, it's good to be prepared. Here's what I like to have on hand to rescue fruit and vegetables.
1. Freezer Bags
I'd prefer to can because it works even when the power goes out, but if your food isn't good enough for canning, freezing can work well. Shop for freezer bags
.
Looking for more food preservation ideas?

The Untrained Housewife's Guide to Getting Prepared: Surviving Emergencies Without Stress (The Untrained Housewife's Guides) (Volume 1)

is a fabulous resource for those wanting to learn about putting up their own food!
2. Jars and Lids
We save canning jars from year to year, and I like them better than freezer bags for freezing as well. We have a stock of plastic screw caps for freezer jams and other frozen foods, and we have lids in case canning calls.
3. Large Pot
Do you have a big stew pot? Having a place to mash and process large quantities of fruit and vegetables is a must.
4. Blender or Food Processor
Is your fruit a little mushy? If so, you could turn it into sauce! Use a blender, food processor, or masher to squish mushy fruit into sauces and jams. Pear sauces and apple sauces are wonderful ways to process less-than-perfect fruit into delicious food. Erica has the Oster 6-Cup Glass Jar 7-Speed Blender
and loves it!
5. Pectin
When I am in a hurry to preserve fruit and the fruit isn't looking very good, I turn it into jam. The easiest and fastest way to do this is with freezer jam pectin. If you have the time, you can also can your jam. This RealFruit Pectin from Ball
is amazing.
6. Sugar
We're not a household that keeps white sugar on hand, but I do have a bag available for canning and seasonal baking. When you need to make jam in a hurry, it's convenient to have sugar around.
7. Dehydrator or Large Baking Sheet
We co-own a dehydrator with a friend, and luckily we had it at our house the other night. If you have a glut of vegetables, dehydrating them saves a lot of space, and they're also good outside the freezer. If you don't have a dehydrator, place fruit or vegetables on low in the oven until they are dehydrated.
If you're looking for a dehydrator and don't want to spend a lot we recommend the Ronco food dehyradator
and if price isn't as much of an issue, the Excalibur dehydrators
are our most highly recommended.
What happened to my peaches? We ended up dehydrating the ones that were still good, so we could add them to trail mixes this fall. The ones that were rotten went to the compost, and the ones that were a little suspect became peach sauce for pancakes this fall. While I'm hoping to avoid peach catastrophes in the future, this experience taught me that it's good to have food preservation items on hand – do you have a stash in your pantry?