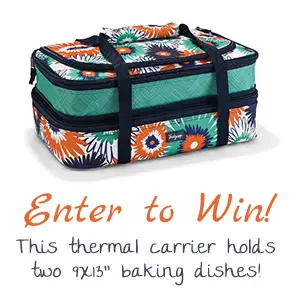 It's no secret that all of us here at MomPrepares love to cook. Whether it's a fancy cake or a basic casserole I enjoy sharing my kitchen goodies with others and consider the potluck tradition one of the best ways to dine. I guess that's why I've had my eye on this Perfect Party Set from Thirty-One Gifts since my party started last week. I've been wanting one of these thermal carriers for myself and I refuse to be greedy so I'm giving one away too!
About the Perfect Party Set
It holds two 9×13″ baking dishes and keeps them either warm or cold on the way to the party! It's a cheery blue and orange print and it's approx. 6″H x 16″W x 10″D (expanded). This thermal is worth $60.
Already Love Thirty-One Gifts?
Even if you don't. Even if you've never heard of them, you'll want to check them out! I have one of their purses and it's my favorite bag, hands down. I love the washable cover and the fact that I can have multiple covers and change them out so I don't need to change purses. I also love their totes and their organizing baskets and boxes. Oh, how my heart rejoices over organizing things… Take my word for it. Check them out.
How to Win
Simply use the widget below and follow the instructions to enter!
Giveaway ends Jan 23rd at 9PM EST and is open to US residents over 18 years of age.