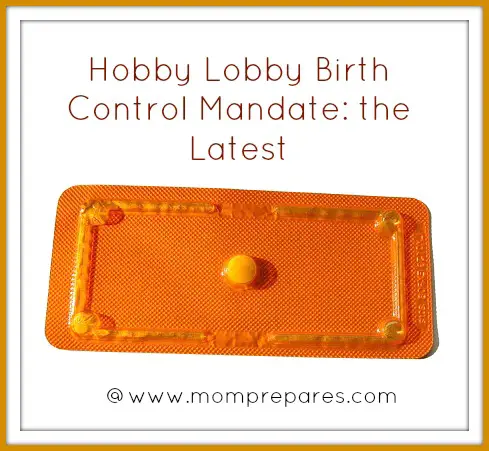 As you may have heard, a craft and hobby store which has a special place in many hearts has recently been clashing with the United States Federal Government. Yes, because of their religious beliefs, Hobby Lobby has appealed and tried to sue to avoid providing contraceptive services to employees. Will Hobby Lobby and Co. win their case, and how does their refusal to agree to the contraception coverage terms bode for their future?
The Government Mandate: Covering "Contraceptive Services"
Here's the story: On January 20th 2012, early this year, the U.S. department of Health and Human Services (HHS)  released information on a new birth control "rule." According to HHS Secretary, Kathleen Sebelius, this rule "allows certain non-profit religious employers that offer insurance to their employees the choice of whether or not to cover contraceptive services." So, basically, only designated non-profit religious organizations have the choice of whether to refuse this rule, or embrace covering contraception costs for their employees. It doesn't apply if the company is only religious, or only non-profit – it must be a non-profit AND "religious" company or organization. Basically, this ruling allows only recognized churches to have the choice of not covering abortion costs for employees. This means that Hobby Lobby, a profit organization that considers themselves religious doesn't "count."
The Free Exercise Clause: Is Hobby Lobby Exempt?
Congress shall make no law respecting an establishment of religion, or prohibiting the free exercise thereof…
So sayeth the First Amendment, with the origin of what is known as the "Free Exercise Clause" italicized. The Free Exercise Clause, (FEC) according to the Cornell Legal Information Institute, "reserves the right of American citizens to accept any religious belief and engage in religious rituals," and "not only protects religious belief and expression; it also seems to allow for violation of laws, as long as that violation is made for religious reasons." This means that under the FEC, Hobby Lobby and Co. may be exempt from forced Plan B coverage for its employees. Why doesn't the Supreme Court excuse Hobby Lobby under the Free Exercise Clause?
To illustrate further, let's project a possible situation: Imagine a Jewish or Muslim company with employees that may or may not be Islamic/Jewish. Then, let's imagine that this organization had a company lunch coming up. Now, what would it be like if the U.S. government interjected with a new law that organizations had to serve pork to their employees because some employees complained that they wanted pork. This would violate the company owner's beliefs, which says that pigs are "unclean," and not for humans to eat. But the company had to do it anyway – or be fined 1.3 million dollars a day.
Get the picture?
How Hobby Lobby Has Responded
Just yesterday, Hobby Lobby and its (also religious) affiliate responded to the previously mentioned "rule" with an interesting decision. According to an AP news article, the attorney for Hobby Lobby and its affiliate " plans to defy a federal mandate requiring it to offer employees health coverage that includes access to the morning-after pill, despite risking potential fines of up to $1.3 million per day." The reason? According to Hobby Lobby and Co., the purpose of the contraception pill, which is to prevent a fertilized egg from attaching to the womb, is equal to abortion. Therefore, preventing this kind of abortion (and most definitely not endorsing it) is high on Hobby Lobby and Co.'s priority list, which has pushed them so far as to defy the U.S. Supreme Court and the Obama Administration.
What's Next for Hobby Lobby?
Will Hobby Lobby pursue this to the point that they go out of business, or will they give up? We'll have to wait and see if this famous arts and crafts company caves in or holds out on their religious beliefs, possibly becoming an emblem for pro-life causes across the world.
Do you think the Hobby Lobby family will stay true to their beliefs and stick through to the end, no matter the financial cost?