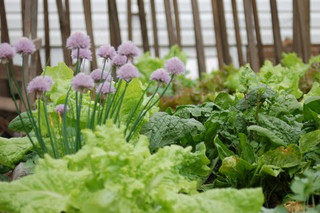 Looking back over my life's wisest decisions, gardening-wise, I'd have to say learning to keep a bed of salad greens growing near my kitchen door is one of the best ones. The nutritional pleasure of being able to walk outside and pick enough fresh spinach to quickly add it to a sandwich, or steam for a baby's lunch is immense. (You moms know what nutritional pleasure is, right? Finally getting the kids to eat healthy foods!) Equally enjoyable is always having a salad for the picking right there in your yard.
Edible Landscaping! Why Not?
To this day, I don't understand why people put so much work into non-edible landscaping of their yard and so little into keeping food growing around their homes! I hope to help reverse this trend – and what better way than to introduce the idea of planting a little salad garden amongst the flowers? Planting leaf spinach and leaf lettuce in a worked-up bed underneath the trees in your yard allows shade to guard the tender leaves during summer's harsh sun. It also makes an attractive planting that can be reseeded as it thins to keep it growing.
How to Prepare and Plant the Salad Garden
No, you can't just sprinkle lettuce seeds in the lawn, and expect it to grow. Ok, you can, but you probably won't get a great harvest. Instead, you'll need to clear the ground and get that dirt ready for planting!
Remember, in the spring and fall, when the sun is not so strong, direct sunlight is a good thing for greens but in the heat of summer, if there is not shade they won't grow very well. So if you can position your kitchen garden to where trees offer shade during the hotter times but more sunny in spring and fall, that would be a perfect location.
Clearing the grass: If you're going to use part of your lawn as your garden area, use a shovel and remove the grass by shallowly scooping out the grass, roots & dirt – about three or four inches down. You can either put the sod in another part of your yard that could use it the extra ground cover, or put it in the compost pile – whichever you choose, you don't want the roots to continue growing in your garden area.
Now, it's time to dig up that dirt! You can either use a shovel to dig up and turn over the dirt, about a foot deep – pulverizing it thoroughly to give the roots room to move, or find someone with a tiler to till it up for you. If you have any compost or fertilizer, apply it before you start breaking the soil, to mix it in thoroughly. Once the soil is thoroughly tilled up and the lumps of dirt are broken down, you're ready to plant your seeds.
Planting Lettuce and Spinach Seeds in Your New Salad Garden
Remove a small bucket of dirt from the broken soil, and keep it separate. Use your handy garden hose, and dampen all of the dirt – then, with a fine leaf rake, smooth down the top of the soil.
Personally, I prefer to broadcast my seeds over the area instead of making rows for leafy greens – but it's your garden, so it's up to you! After you have scattered the seeds, or placed them carefully in rows, take the reserve dirt and sprinkle it over the seeded areas. The general rule is to cover seeds with a soil dept of about two times their length, so you don't need much dirt over these small seeds.
After you've finished seeding and covering the garden with dirt, water the seedbed gently but well. Continue to water as necessary, depending on your weather conditions, until the seeds sprout – don't let the bed dry out completely before the seedlings emerge!
Love My Salad Garden!
These fabulous greens can be grown all through the year with some careful planning, understanding what seeds grow best under your local conditions, good garden placement, and proper care. It is not much work and the rewards to you and your family are great! I think you will never give up the little kitchen salad greens garden if you ever have one – these gardens are that great! And it's not just spinach and lettuce greens, there is arugula, too. Toss in a few radish seeds and perhaps plant a few onion sets or chives to add a bit more to the garden. It's all good and limited only by your imagination, ambition, gardening skill and abilities. If you have space and perhaps a handy husband to till up the land, the sky is the limit.
Have you ever kept a salad garden?