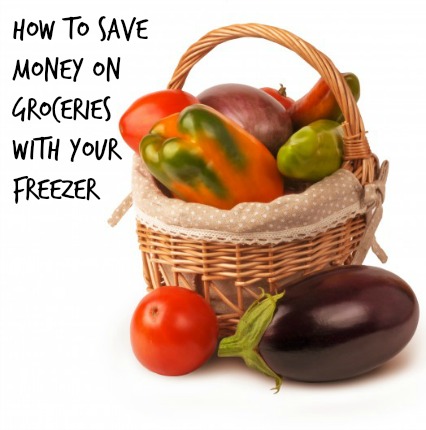 Many of us are looking for ways to save money on groceries. We clip coupons, shop sales, and eat more beans and rice. One often-overlooked tool for saving is the freezer.
The most obvious way to save money by freezing food is to purchase it on sale. You can buy discounted meats and day-old bread and pastries and freeze them for another day.
Freeze Grassfed, Organic Meat
Another way to save big on grassfed, organic meat is to purchase a quarter, half, or whole cow from a farmer. Often you can purchase beef this way and find another family or two who will be willing to split the quantity. Depending on the size of your family and how much meat you eat, this can last an entire year at a fraction of what you'd pay if you bought grassfed meat each week from a store.
If you have a friend, family member, or neighbor who has land and perhaps already owns cows, he may be willing to raise a beef for you. Someone like this may be willing to keep the animal on his property, and let you pay for the cost of the animal plus a nominal care fee, as well as the cost of slaughter and processing. This can also be another more-economical way to fill the freezer with high-quality beef.
Want to do it all yourself? Here's a book that will help: Home Butchering Handbook: A Living Free Guide (Living Free Guides) .
While selling wild game is illegal, you may be able to work out an agreement with a friend who hunts. He may be willing to give you his overflow, and you could express your appreciation by sharing garden veggies or fresh-baked bread.
Freeze Fruits And Vegetables
Most fruits and vegetables can be frozen as well. What a great way to save if you find produce on sale or in season—or if your neighbor offloads his excess garden goods on your doorstep!
You can throw some fruits and vegetables in the freezer without any preparation at all, while others might require peeling or blanching. For example, blueberries should not be washed or prepared at all, but put directly into the freezer. For tomatoes and peaches, you should blanch them in boiling water for a few seconds and then dunk them in cold water so that the skins slip right off. Veggies like green beans must be blanched before freezing as well. If in doubt, Google instructions for freezing the produce you have on hand. It typically only takes a few minutes and can save you many dollars through the winter months.
Tip: 5 Ways To Use Your Freezer Fruit
Another way to use the freezer to save is to make and freeze your own baked goods. From bread and rolls to cookies, muffins, and even cupcakes, you can make frugal recipes and freeze the goods (baked or unbaked) for later. This saves time and also saves on panic purchases when you have guests on short notice or remember that you've promised to make something for a bake sale!
With a little planning, the freezer can be a great tool for a frugal life. Use it!
How do you use your freezer to save money?