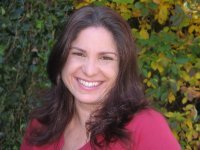 I was first introduced to Chris McLaughlin when she contacted me and asked for a little help with her website. Then I learned that we had a mutual friend and both contributed to Untrained Housewife. Since then I've enjoyed many of Chris' articles and am so tickled to be one of the first to have a copy of her brand new book, Vertical Vegetable Gardening. Since I live in town on a very shaded lot my gardening space is limited. I love the idea of growing UP!
We'll be giving away a copy of Vertical Vegetable Gardening: A Living Free Guide (Living Free Guides)
along with several other books in the next couple of weeks so be sure to subscribe to our newsletter so you'll know when to enter!
Introducing Chris McLaughlin…
Tell us a little about your own journey and what led you to author this book?
I was born a gardener and a farmer. My family was anything BUT, LOL. My fascination with plants started right around the time that I became enamored with writing. In the fourth grade I was digging up volunteer seedlings, pulling them in my brother's little red wagon down the street & selling them.
My fourth grade teacher told me that I should be a writer. I loved the written word so much that I thought so, too.
Of all the chapters in your book, which is your favorite, and why?
I think chapter 5 ~ Creative Repurposing was the most fun for me. We're always looking to reuse things around here and it's such a thrill to create something functional where there was nothing a few minutes ago!
Have you ever raised any exotic animals or plants?
I've had many, many animals including a hedgehog and pot-bellied pigs. Along with the typical dogs and cats, we have horses, goats, chickens, and rabbits on our hobby farm. My addiction to plants is matched by my love for animals ~ in order to be happy, I'll have to have both in my life.
My experience with my piggies has been one of the most amazing in some ways. They are such bright and intelligent (and loving) animals ~ I'll never look at them the same way that I had before having them live with me.
As far as plants, one of my favorite exotics are orchids and have you seen the amazing blossoms on some succulents and cacti? Incredible.
What is your favorite time of the year?
I live for the spring. And not just for obvious reasons! In the spring all things are possible. I thrive on the new plans, plants, and ideas that everyone has for their gardens and homesteads in general. New life, whether it's seedlings, lambs, or baby chicks is music to my ears!
My next favorite time is the fall. The winding down of what is usually the most productive time of the year (summer) is slow, graceful, and bountiful. And the lighting is excellent. :D
Keep Reading for Page Two of our Interview with Chris McLaughlin!