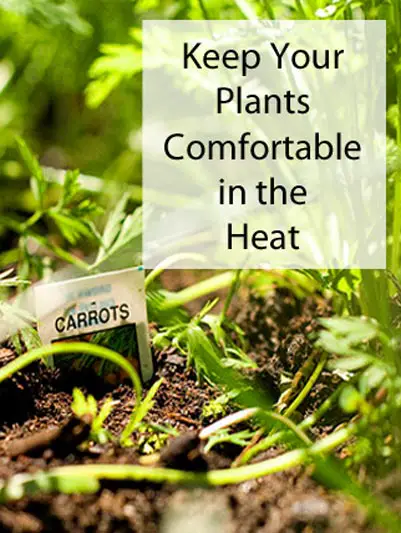 Oh, it's hot. It's so hot that the plants in my big, new garden bed are wilting, and this makes me sad. I've been something of a shady gardener my entire gardening career, loving those greens that grow in damp, cool, and dark places. This summer, we installed a community garden bed right in the sunniest part of our common property, and now I'm dealing with plants that are drooping. Stymied, I turned to friends with sunshine for advice. Now the garden is looking up, literally. The plants are perky, and we're enjoying the bounty that the sunshine brings.
What have we done to keep our plants comfortable this summer?
Need Small Space Gardening Tips? Tricia's book,

The Complete Idiot's Guide to Small-Space Gardening

is the perfect place to start. You may also enjoy

Vertical Vegetable Gardening: A Living Free Guide (Living Free Guides)

by Chris McLaughlin.
Go Light on Transplants
One of the mistakes we made was to transplant a lot of plants into our fledgling garden. Taken from their ideal conditions and placed into a hot, dry, garden bed, the plants wilted and suffered. If you transplant, choose plants that are perennials and grow back from their roots. Seeds grown in warm beds grow up used to those conditions, or they don't grow at all. The plants we started from seed are thriving!
Grow For The Sun
Some plants are not meant for the heat and sun. Greens often dislike sun and will bolt quickly. Go for warm-season vegetables and fruits like tomatoes, squash, beans, and melon.
Give Your Plants a Boost
Treat your stressed-out plants well. Water them regularly, ideally in the early morning before the sun really heats up the soil. This will prevent excessive evaporation. Give your plants some food like compost tea, and you'll give them a boost when they're feeling stressed. See Watering Vegetables: How and When to Water
Mulch, Mulch, Mulch!
Give your plants a break, and add a summer mulch if the sun is just too hot. Summer mulches protect plant roots from the baking sun, and if you have any moisture in your soil, they keep the moisture in. One drawback: it does take longer for water to move into the soil through your mulch, so if you're in a very dry climate, so you might want to skip the mulch. See Summer Mulches to Keep Moisture In Your Soil
Grow Good Soil
This is a hard one for a new garden bed, but next summer we'll be all set up when it comes to soil. Over the winter, we'll be mulching and putting in cover crops to increase the soil complexity. Along the way will come helpful microorganisms that help plants get nutrients, and we'll have more pockets in the soil for air and water. Healthy soil helps store water and provides nutrients to plants, reducing stress.
Add Shade
In the center of our garden, we installed a couple of larger shrubs. While they don't give nearly the amount of shade as a tree might, their shadows do moderate the hot sunlight a little bit. You can also grow a tree near your garden – a long term project – or add a shade cloth for the short term. A little shade can be a good thing!
How are you keeping your plants comfortable in the heat?