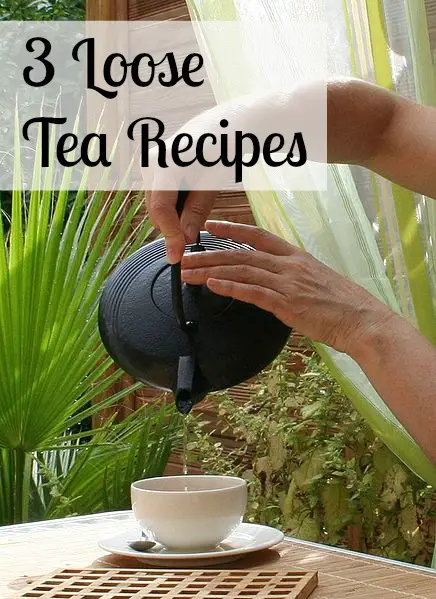 Hot tea is one of my favorite beverages. Aside from coffee, which I mainly drink to survive, hot tea is my beverage of choice. I love trying new tea blends and recently- I've been experimenting with creating my own tea blends from loose tea leaves.
To brew loose tea, you will need:
Why Use Loose Tea?
Just like most other prepackaged foods, the quality of tea sold in regular tea bags at the grocery store is poor. The tea is old, bitter, mangled, lacks nutrients, and is full of fillers. Additionally, tea bags often contain some plastic, which is quite unhealthy to ingest.
I still drink far too many bagged teas out of convenience, but we're slowing working our way back to loose tea. You can easily tell the quality of a loose tea by how large the leaves are and how recently the leaves were harvested. Tea leaves should have a strong aroma and be ideally at least as large as a child's fingernail.
Here are three of my favorite loose tea blends:
Loose Tea Blend Recipe for Relaxation
2 parts green tea
2 parts chamomile
1 part valerian
1 part lemongrass
You can also add rose root or lavender to the mix, but I am not a fan of either.
Learn more: Pine Needle Tea is a Great Source of Vitamin C
Loose Tea Blend Recipe for Energy
If you would rather drink tea than coffee in the morning, try this blend of tea for energy:
3 parts black tea
2 parts lemon verbena
1 part catnip
1 part red clover
This tea does contain caffeine, so if you are trying to avoid caffeine, exchange the black tea for something without caffeine.
Learn more: 8 Free Winter Teas You Can Make
Loose Tea Blend Recipe for Digestion
I often have stress-related digestion issues, so I drink tea for digestion a lot. This is one of my favorite recipes:
2 parts green tea
1 part peppermint or spearmint
1/8 part fennel or licorice root
1/8 part ginger (I usually used dried ginger)
Tea can be home grown in containers or a small space garden. Learn more in

The Complete Idiot's Guide to Small-Space Gardening

.
How to Brew Loose Tea
Mix up your blends beforehand and store in airtight containers. When you are ready to make your tea, boil a pot of water (or use your tea pot
), then allow to cool for a few minutes.
Fill your infuser with tea (about 1-2 teaspoons per cup). Place the infuser in the cup or teapot and add in the hot water. Steep for about 2-3 minutes, then enjoy! If you want to add sweetener, do so after you remove the infuser.
What are your favorite tea blends?
Have you published any food related post lately? Link up below!
Tasty Tuesday