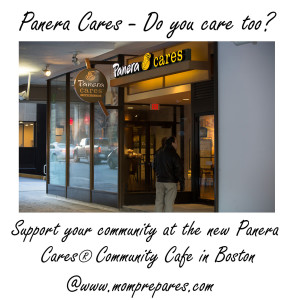 All high-profile stores are only out for themselves, right? Selfish, greedy, and unhelpful Corporate America! Well, in this case, Panera has proved the stereotypes wrong by stepping up to show charity to those in need, in these difficult times. No, they didn't donate millions of dollars to a food for the hungry charity. No, they didn't sponsor a campaign. They took things into their own hands, and are working every day to provide for those who are in need with something called the "Panera Cares®  Community Cafe."
What is a "Community Cafe?"
A Panera Cares® Community Cafe looks like a normal Panera cafe – but there are no prices on the menu. According to the Panera News Center, "Panera Cares is a new kind of cafe – one that exemplifies an entirely different way of giving back. It is a non-profit community cafe of shared responsibility. The goals of this charitable program are to help ensure that everyone who needs a meal gets one and to raise the level of awareness about food insecurity in the country."
This means, that while Panera Bread the company pays for building and opening costs, the costs afterward, such as materials, salaries, and upkeep, are up to the community. Again, there are no prices. The bottom line of the program is that everyone pays what they can. And you are not pressured to pay more – they are grateful for every contribution they have to put more back into Panera Cares®.
Where are the Community Cares Cafes?
There are five Panera Cares® Community Cafes across the US, the most recent opened just a few weeks ago, on January 23rd. Panera Cares® Cafes are located in:
1. 22208 Michigan Avenue Dearborn, MI 48124 (313) 274-3301
2.10 South Central Ave. Clayton, MO 63015 (314) 725-9666
3. 4143 NE Halsey Street Portland, OR 97232 (503) 287-5900
4. 616 W Diversey Pkwy Chicago, IL 60657 (773) 528-4556
5. 3 Center Plaza Boston, MA 02108 (617) 371-3991
Why Does This Matter?
Why does this matter? It matters because we aren't just preppers – we're people. As people, we care for each other, we look out for each other, we serve our communities and do our best to bless others. This isn't about money, it's about caring. It's about the fact that not only does a multi-million dollar bread company care, but the community cares as well. They care enough to give back. This isn't about free food – it's about helping others in need. To close, let's hand the mic over to Panera.
"Community cafes provide high quality food in a warm, inviting and comfortable environment. Panera Cares cafes exist to make a difference by offering the Panera Bread experience with dignity to all – those who can afford it, those who need a hand up, and everyone in between."
How will you serve your community today?