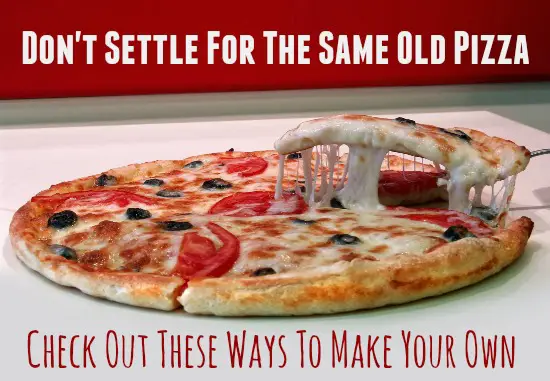 Whether it's for a large gathering of friends and family, a celebration of some sort, or just because you feel like having it, pizza is a delicious way to feed the masses. Not only is it easy to make, but it can be topped with an assortment of goodies. There's no end to the types of pizzas out there, no matter what your food preferences are.
Even if you don't care to make your own crust, some of the basic pizza types can be crafted using a pre-made pizza crust. These aren't as funky as they used to be. They come in thick, thin, frozen and vacuum sealed. If you do want to try your hand at mixing your own pizza dough, there are plenty of companies who offer the convenience of a pre-measured dough mixes. All you have to do is add water, stir and bake! Here are some great recipes for various types of pizzas. I hope you enjoy!
The main difference between regular pizza and the gluten-free variety is the crust. This website offers some recipes with different toppings to put on your gluten-free crust. They all sound delicious!
There are also a few non-pizza recipes on the page this link goes to, but it also provides connecting pages to roasted tomato pizza with basil cashew cheese, one-bite pizzas, gluten-free almond and buckwheat flour pizza crust, high protein tortilla pizzas, and how to make basic pizza dough.
Whether you're looking for a recipe with a single fruit topping, grilled fruit, fresh fruit or one with a bit of chocolate drizzle, you'll most likely find them here! The cooking time is provided with each recipe, which I find very useful to have.
The best part about this site is the pictures of each type of dessert pizza. They look absolutely amazing! It's difficult to decide which recipe to try first. There are soooooo many!
If you don't like eggs, then the majority of these recipes won't appeal to you. Most of them consist of eggs and some form of meat product. The pictures on this one are helpful too!
How could you possibly go wrong with 50 different recipes to choose from?! If you are looking for creative veggie combinations, then this is the site for you. But, despite the title of "Vegetarian Pizza" there are some recipes with cheese in them. So if you aren't a lacto-vegetarian, then skip these and check out the rest.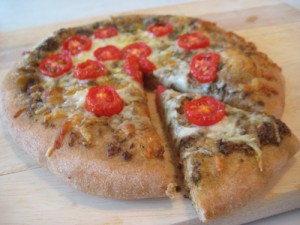 Shrimp and crab meat are the main toppings on this pizza. If you prefer fish instead, you can always try out this Salmon Pizza recipe from Robert Irvine.
I've always loved Hawaiian pizza. There's something about the combination of sweet pineapple and salty ham. Yum! This recipe has all the basic ingredients of any Hawaiian pizza I've eaten and no strange stuff that is difficult to find in the store.
I thought this recipe sounded very tasty, so I couldn't skip adding it to this list of types of pizza. The picture is very monochromatic, due to the ingredients used, but I bet it's delightful to the taste buds!
This enormous list of links to a fantastic variety of pizzas should keep you going for quite some time. If you don't like one, then try another! And, if you don't like pizza crust at all, you can also put toppings on top of something else, such as zucchini halves.
What's your favorite pizza recipe?