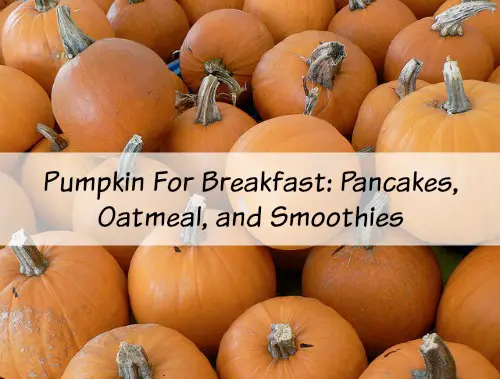 What would fall be without pumpkins? In America, fall and pumpkins are synonymous. We enjoy eating them as well as decorating with them. Instead of letting your decorations sit until they rot, use them for food for your family. Here are some breakfast recipes that will help you turn pumpkins into delicious treats for your family.
You might also like these Turkey Pumpkin Recipes. Yes, turkey AND pumpkin.
Tiffany is developing 365 ways to eat oatmeal. Here is an absolutely wonderful way to eat it. This recipe is very simple with a minimum of ingredients for maximum nutrition.
Mix together and cook on the griddle. Erica says they are delicious right off the griddle without even sitting down to put syrup on them.
She not only tells us the many nutritional benefits of pumpkin, she illustrates that the recipe can be changed to meet a variety of special diets. Cinnamon, Ginger, and Nutmeg are the flavors of the day!
They are basically like a mini muffin, and oh so yummy. The trick involved here is keeping enough of these around long enough to eat one yourself!
At my house we enjoy eating this type of quick bread for breakfast – it could be banana, apple, or pumpkin. Carrie lists the ingredients that a lot of kitchens keep stocked and then offers some others you can add. Enjoy!
It's a mix between a cinnamon roll and cake so I'm claiming that it can be eaten for breakfast- at the very least for an occasional special day. You do have to scroll down the page, but keep looking and you will see the recipe box. I wanted to find this type of recipe that starts from scratch and not from a boxed cake mix.
You might also like this recipe for making pumpkin pie in the slow cooker.
These recipes are perfect for a fall breakfast or brunch. Pumpkin is a pretty cheap, nutritious, fresh food that can be preserved in many ways. I hope these recipes help stretch your budget and satisfy your taste buds.
Do you have any favorite pumpkin recipes? We'd love to hear about them!
Link up a recipe from your blog for Tasty Tuesday!