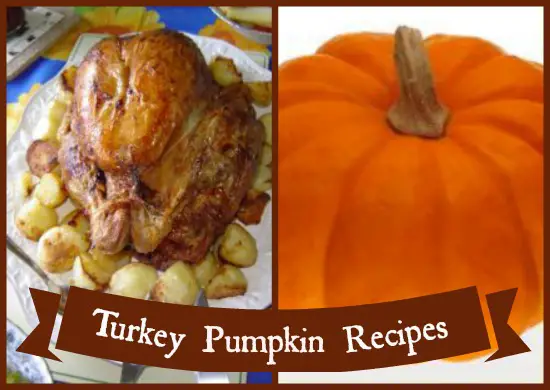 Thanksgiving is just around the corner. The fall harvest season is in full swing. I'm thinking about food, and not just any food, but the ultimate dish for the fall season that has to combine essential fall foods – pumpkin and turkey. I am happy to say that I have found a few recipes for us to try: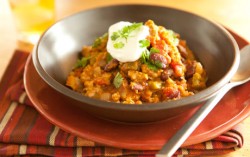 This unexpected recipe for turkey pumpkin chili will answer the question, "what's for lunch" when you are looking for an extra special dish to serve someone special.
Here's a very simple recipe that can help you use up the leftover turkey. This would be nice to have in a crockpot on low and guests coming through could just east whenever they want to.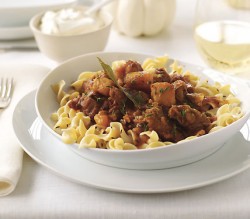 Hungarian beef stew goulash recipe is made anew with this pumpkin-turkey ghoulash dish. I think it's delicious!
This takes ground turkey so it would be hard to use with leftover turkey, but I wanted to include it because it is so different. It could possibly be turned into a meatloaf too.
Need something for the kids to do while you cook? Check out these 13 Thanksgiving Craft Ideas!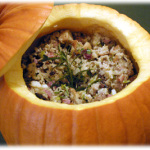 Just when you think you've seen it all you find something as wonderful as this – cooking your Thanksgiving turkey stuffing in a pumpkin and serving it out of the pumpkin! Wonderful idea, great presentation, scrumptious taste!
Trying to watch your diet through the holiday season? This recipe works perfectly for the Atkins / low-carb diet. Filling, warm, flavorful, and guilt-free for the cold winter holidays.
Want to know more about using herbs in your cooking? We recommend for their classes and information.
If these recipes don't make you smile and go hmmmmm, I don't know what will. The traditional turkey-pumpkin pairing continues with these recipes and I hope you find new favorites here.
Do you have any turkey-pumpkin recipes? We'd love to learn about them! The comment section below is for your thoughts, ideas and questions.
Thanksgiving Leftover Safety!
While we're talking about using the delicious leftovers from our Thursday feasts let's talk about making sure those leftovers are safe to eat.
1. Refrigerate leftovers within 2 hours of serving time.
2. Leftovers are good in the fridge for 3-4 days.
3. Or, you can freeze your leftovers and they'll be good to eat for 2-6 months.
4. When reheating leftovers be sure to heat to 165 degrees to kill germs and bacteria.
Enjoy this food safety video!
FoodSafety.gov has a great infographic about food safety! Click here to see and share it!
Link Up Your Recipe For Tasty Tuesday!
MomPrepares loves to join link-ups and meet other bloggers. Here is the list of our favorite link-ups so you can participate too!