What is Oakmoss?
Oakmoss is a lichen, which is an organism that lives symbiotically with fungi. They are plant-like, but are not actually plants. Oakmoss essential oil is distilled in a number of ways: [1]
Solvent extraction of lichen that has often been soaked in water produces an absolute or a concrete. The concrete is a dark, semi-solid mass with an extremely earthy scent, while the absolute is a dark green liquid that has more of a mossy smell.
There is an absolute oil that is created from the concrete through vacuum distillation. The absolute oil is a viscous yellowish to olive with an earthy bark smell.
Alcohol extraction of the lichen creates a resin and resinoid. These are much like the concrete in form and scent.
Besides oakmoss, there are numerous other lichens gathered for their oils. Fir moss (evernia furfuracea) and tree moss (Usnea barbata) are among them, and are both often referred to as 'oakmoss' in the United States. 'True oakmoss' is considered more refined than either.
This is sometimes call oak essential oil but should not be confused with white oak bark or oak bark oil, which is commonly used for pain.
As an organic fixative in perfumes, oakmoss oil blends well with floral oils like rose (Rosa damascena) and jasmine (Jasminum officinale), citrus oils like bergamot (Citrus bergamia), spice oils and much more.
Oakmoss Essential Oil Uses
Oakmoss is not recommended for use by home practitioners because of the high concern of sensitization.
Tisserand recommends a maximum dermal use of 0.1 percent, and oakmoss is contraindicated for people with dermal allergies, broken skin, sensitive or diseased skin, and young children. [2]
Perfume
Oakmoss has been used extensively in the perfume industry. The absolute is a base note and a fixative. However, as of 2010 this is now highly restricted by the International Fragrance Association (IFRA) because of the allergic reactions the substance widely causes.
As a fixative, oakmoss imparts a sensual, unmistakable woody note. It is featured in many popular high-end perfumes. The scent is used extensively in chypre scents, often characterized by an earthy oakmoss base, a labdanum middle, and citrus top. [3] Some examples are:
Y by Yves Saint Laurent (1964, fruity)
Paloma Picasso (1984, complex floral)
Knowing by Estee Lauder (1988, floral)
CK One by Calvin Klein (1994, fresh-citrus)
Because of the restriction imposed by the IFRA on atranol and chloratranol, it has been difficult to create these classic scents.
However, Thierry Wasser of Guerlain in France has found a way to use an oakmoss missing the molecule that causes the restriction as opposed to using a synthetic scent. [4]
By using an amino acid, the aldehyde molecules bind together creating a Schiff Base. This becomes a solid under the right conditions, which can then basically be 'washed out' of the oakmoss absolute.
This process brings the concentration of the atranol and chloratranol down below the IFRA-imposed maximum of 100 ppm.
The IFRA-compliant oakmoss that is increasingly more available is for perfumery purposes and should not be considered for therapeutic purposes. Numerous safety data sheets of the compliant absolute that we found still show hazards.
Historical Uses
Oakmoss and other lichens have been used in a number of ways throughout history, but rarely medicinally. Ancient Egyptians used lichens like oakmoss to embalm their dead, and many lichens are used as dyes.
According to Julia Lawless, oakmoss is an antiseptic, demulcent, expectorant, and a fixative. [5]
Oakmoss Essential Oil Benefits and Dangers
Oak moss oil can cause a number of reactions, and should only be used commercially or by an experienced practitioner.
Some examples of the dangers of oakmoss are: [6]
Allergic Reactions
Many people have allergies to moss and lichens. Allergies can also develop over time. If you have sensitive skin or are prone to allergies, you should avoid oakmoss.
Kidney Issues
Oakmoss can exacerbate kidney problems, so anyone with these types of issues should stay away from oakmoss.
Thujone Toxicity
Thujone is one of the chemicals in oakmoss. It can cause serious side effects, like convulsions, dizziness, kidney damage, restlessness, tremors, and vomiting. This makes the substance a danger in large quantities, as an extract, or when used for a prolonged time.
Thujone is also extremely dangerous to anyone pregnant or breastfeeding. It can cause uterine contractions which could cause a miscarriage.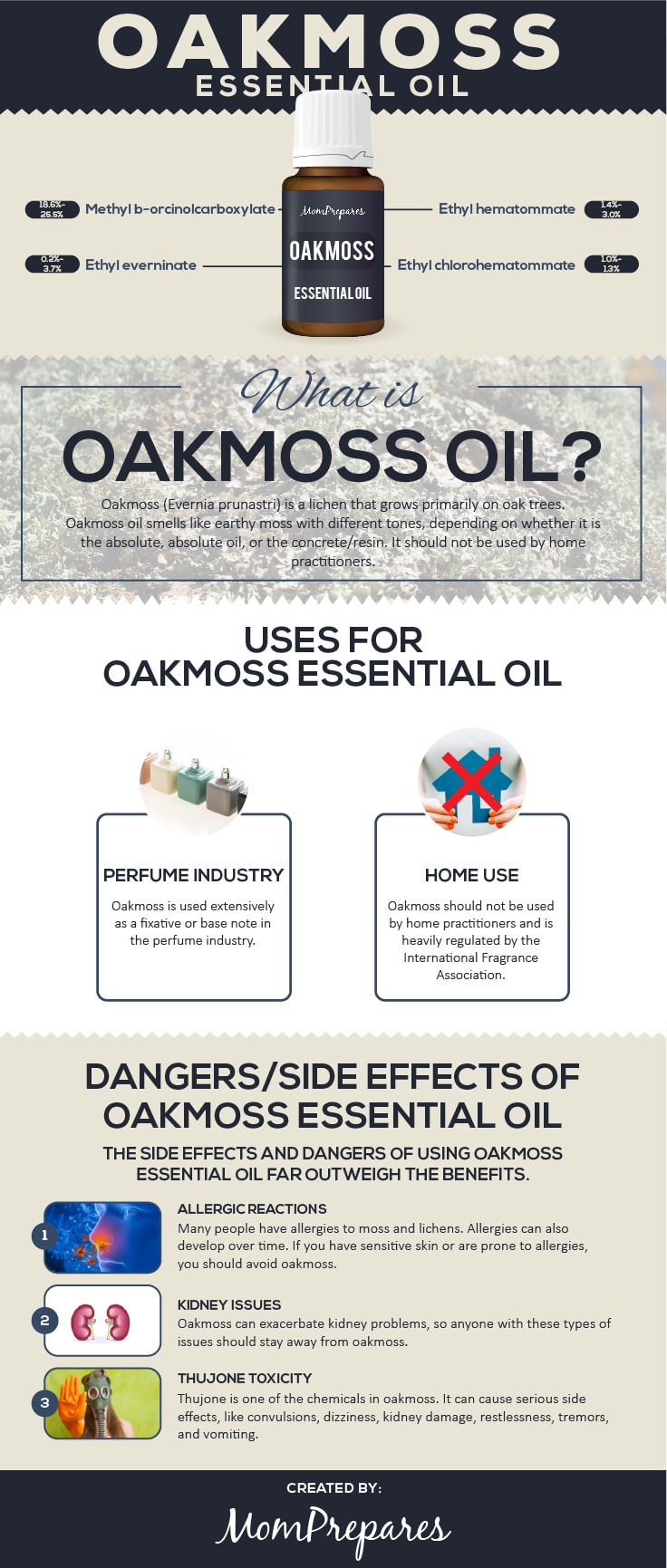 Use This Infographic On Your Blog
Oakmoss Essential Oil Research, Facts, and Studies
Oakmoss Allergies
Atranol and chloratranol are the two constituents in oakmoss that cause allergies in a high amount of people tested.
In 2004, researchers tested 31 products and found that 87 percent, or 27 of them, contained the ingredients.
They stated that since the constituents are the cause of the widespread allergic reactions, the industry should focus on regulations of the constituents themselves, not on oakmoss absolute in general. [7]
Another study in 2014 showed that even cosmetics with a reduced amount of atranol and chloratranol could elicit a reaction in anyone that was previously sensitized to the substances. [8]
Reduced Allergen Oakmoss Absolute
There are other allergens in oakmoss that can cause reactions: atranorin, chlor-atranorin, ethyl hematommate and ethyl chloro-hematommate.
However, when the oakmoss absolute was treated with the amino acids leucine or lysine, all of the allergens, including atranol and chloratranol, were reduced considerably. This makes the treated absolute a viable and safer replacement for traditional oakmoss absolute in fragrances.
It is interesting to note that this entry originated in the International Journal of Cosmetic Science in 1992. [9]
Conclusion
Oakmoss has been used throughout history, generally as a fixative and base note scent in perfumes and colognes.
Because of the high risk of dermal irritation and sensitization, oakmoss oils, resins, and absolutes should only be used by highly qualified practitioners or commercially.
There are now IFRA-compliant forms of oakmoss on the market. However, these are meant for scenting purposes, not for therapeutic use.
Oakmoss should not be used by anyone pregnant or nursing, on those with broken, sensitive or diseased skin, or by anyone who suffers from dermal allergies.
Safety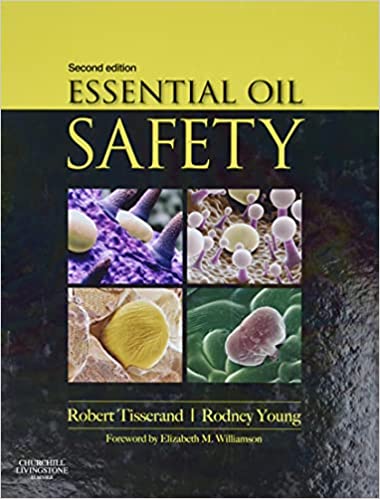 Correct selection and use of essential oils is crucial to ensure that you enjoy the best benefits of oils, without any of the downsides. Remember, some essential oils can be very potent and powerful. We therefore highly recommend this book to all of our readers: Essential Oil Safety: A Guide for Health Care Professionals 2nd Edition