Most of us have heard the depression-era saying, "Use it up, wear it out, make it do, or do without."
Quilting originated as a way for women to make something beautiful and useful out of bits and scraps of fabric that might otherwise be thrown away; a relaxing, creative, and practical endeavor. Over time, quilts became their own art form, and quilting was a skill that was passed through the generations. Some of my most treasured possessions have been quilts made by my grandmothers.
This satisfying, useful skill is one that we modern girls can reclaim quite easily. In fact, you can teach yourself to quilt if you choose simple patterns that require little more than a straight seam.
Five easy quilt patterns that are perfect for beginners.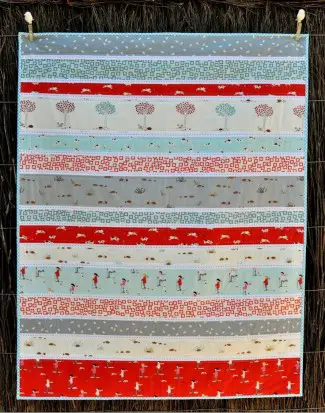 Strip quilts are the easiest possible quilt to make, and the combinations of colors and prints are endless. You can make them with wide strips, skinny, strips, or a combination. This particular tutorial shows how to make a quilt with fairly narrow strips. Once you've followed these instructions, you can use the same basic idea to create all kinds of variations. My favorite thing about strip quilts is that they are very forgiving. Any mistakes are easily fixed or modified. 
The next easiest quilt is a simple patchwork. This tutorial has detailed instructions about how to organize your colors so that you have no repeats. If you're a detail oriented person who likes very specific instructions, you'll enjoy this information. Otherwise, use the same idea and do it the way I do—lay it all out on the floor and re-arrange the squares till you think it looks good! There's no right or wrong way to do this!
The nine patch design is a sweet, old fashioned pattern. More than likely your grandmother or great grandmother has made a nine patch quilt or two in her day. It was often the first quilt a young girl was taught to make in past generations. This pattern comes from a "nine patch a day" challenge. Quilter Amanda Jean encouraged her readers to complete just one little nine patch each day until they had enough for a quilt. That's a perfect challenge for the beginning quilter—although once you start you might not want to stop!
The triangle pattern is slightly more challenging than the previous patterns because you're sewing angled shapes—but not much. You're still sewing straight lines. This is a fun, bold design that would be perfect for a boy's room.
This book The Practical Guide to Patchwork: New Basics for the Modern Quiltmaker (Amazon) has information from the very basics and continues on to a bit harder.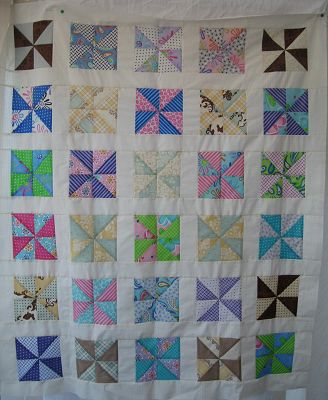 Pinwheel is another old fashioned design that you might recognize from your grandma's collection. The funnest thing about Pinwheel is that it looks complicated but it's really very, very simple.
If you've ever wanted to quilt, these five patterns should get you started.  And once you have it put together, here are simple instructions for how to actually quilt your creation by hand. Happy quilting!