Got allergies? My family does. Dogs, cats, grass, trees, you name it and someone is allergic. That includes peanuts, so I can't cook peanut butter cookies. This caused me a great deal of consternation since I love a good peanut butter cookie, but after much trial-and-error, I've decided that this almond butter cookie recipe is better than any peanut butter cookie I've ever had. I also like to use it as a pie crust or cheesecake crust.
Ingredients for 1 batch of almond butter cookies
8 oz almond butter
2 eggs
1/2 cup granulated xylitol
dash of powdered sucralose, stevia or other powdered sweetener
dash of baking soda
1 teaspoon vanilla
Mix all ingredients together with a fork in a large bowl.
[sc:"emealscrockpot link" ]
To Make Almond Butter Cookies
Roll teaspoons of dough into balls, and place on greased cookie sheet or greased sheet of tinfoil on the cookie sheet, to save cleanup time. Press with a fork to achieve pretty criss-cross design, and sprinkle with more granulated xylitol or the sweetener of your choice. Bake in pre-heated 350 oven until the edges begin to crack; probably about 5-10 minutes, depending on the size of cookie.
These cookies are very forgiving – undercooked, they're just chewy and delicious. Overcooked, they're crispy and delicious. You just can't go wrong, unless you leave them in for half an hour.
Want to make more cookies? Try these!
To Make Almond Butter Cookie Pie or Cheesecake Crust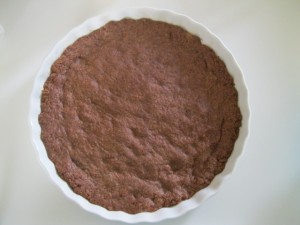 Drop the dough into the bottom of your pie pan, and press with your fingertips to evenly spread the dough all over the pan. When the cookie crust is a uniform thinness, and your whole pie pan is covered, place the pie pan in the oven and bake for about 10 minutes until the cookie in the middle of the bottom of the pan is firm to the touch.