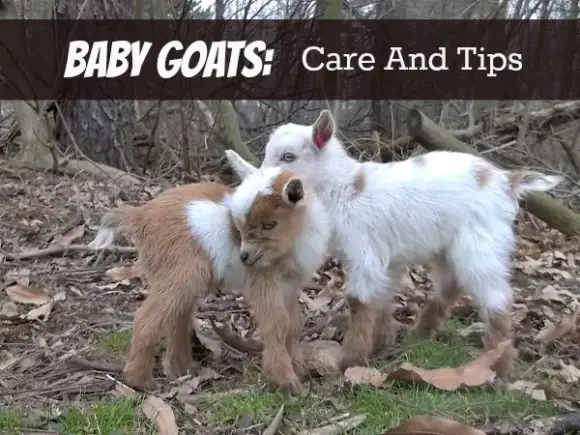 We have had quite a successful kidding so far here at Sincere Milk Dairy Goats and Soaps. We just had 2 sets of twin born this month to one of our senior doe and her daughter who is a first freshener. Everything has gone smoothly this year and it is always a relief to see the babies come into the world and then leave our farm to go to other herds and have no problems. Healthy goats and their babies are one of our #1 goals on our farm. Here are some things we do to meet that goal.
Before The Baby Goats Arrive
Even before the babies arrive, there will have to be decisions made and preparation for their arrival to make things go as smoothly as possible. Healthy and productive babies begin with healthy and productive parents. One of my first suggestions is to start off with the best stock you can afford. You will want to buy from reputable farms and disease free herds. Your decisions about purchasing foundation stock with be a huge influence on whether or not your herd will be successful or be a failure.
I personally recommend buying registered stock. A pedigree does not guarantee good stock, and you can get good stock that are not registered, but buying unregistered stock is taking a shot in the dark. Pedigrees will show you what lines the goat you are interested in come from. Good farms that develop good reputations would be wise choices from which to purchase stock. For example, if you are interested in dairy goats, look for farms that have a great reputation for milk production in their lines. Farms may participate in milk testing and you can look for your stock based on milk stars on the pedigree.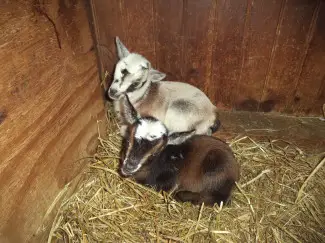 Have the number of a vet or a mentoring goat breeder on hand. Know well in advance who you will call for advice or to come and help if the unthinkable happens. Have a birthing kit on hand, but try to determine ahead of time that you will only intervene if necessary. Remember that most of the time, things go smoothly. Educate yourself and be ready to step in, if there is a problem.
Have a separate kidding stall available and move the dam into her new stall about a week before kids are due. This will assure that the new babies will not be trampled or attacked by other members of the herd.
Decide in advance whether or not you will bottle feed or allow the babies to be dam raised. I personally believe in the latter, but that is why ultimately it is super important to make sure you have a clean, disease free herd. If you decide to bottle feed you will need to make sure you are present at the birth to remove the baby from his mother. Make sure you are able to do what is required to bottle feed before you make the commitment because once you remove the baby, it will be difficult – if not impossible – to force the mother to accept her offspring back. Make sure that you have either powdered colostrum on hand or plan to heat treat the mother's colostrum to feed to the baby within the first 24 hours.
If you decide to allow the dam to raise her own offspring, you need to watch the dam to make sure that she is feeding and taking care of her babies. Some signs to look for are a contented baby who is up and wagging his tail. You can also feel the baby's tummy to see if it is full. Right after they nurse, the baby will have a round, warm, full tummy. Also watch for any signs of aggression from the mother to ensure that she has not rejected her offspring. Be familiar with the bottle feeding process in case it becomes necessary.
After The Baby Goats Arrive
Have dry colostrum on hand in case something happens to the dam. Also have a nutrient drench available to give the new kids a boost of energy. Worm the dam right before kidding with a wormer approved for pregnant does. Give the mother her CD&T vaccine a few weeks before kidding to ensure that immunity is passed down to the kids through her milk and have vaccines and wormer on hand to vaccinate and worm the kids shortly after birth.
Decide whether or not you will dehorn your kids. I highly recommend it for various reasons and you can read about it in this article from Fias Co Farm.  If you decide to dehorn (disbud), you will want to do it sooner rather than later.  I do not recommend attempting to do it on your own if you have never done it before.  My husband is currently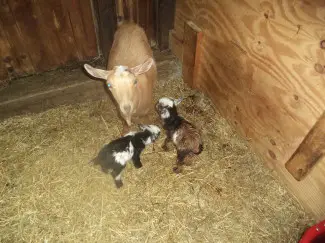 being mentored to learn how to do it on his own.  You need a disbudding iron and a disbudding box.  You can also watch videos on youtube, but you really should have someone with a lot of experience teach you how to do it properly so that you do not severely injure or kill your baby goats. 
If you plan on registering your stock (again I highly recommend this), you need to have your adults registered and have the dam in your name.  If you use someone else's buck, make sure that you have received a service memo so that your offspring are eligible for registration.  You should also try to secure your own herd name and tattoo sequence by joining the goat registry group such as ADGA or AGS.  The babies can then be registered in your herd name and have their own tattoo number assigned to them from your farm.
 Want to learn more about having goats, chickens, and a large vegetable garden even if you don't have an acre of ground? We recommend [sc:byfarm ].
There is a lot to breeding goats that you should become familiar with before your first kid arrives, but do not forget to have fun.  Baby goats are one of the sweetest, cutest and funniest baby animals on the planet and they can add so much fun and enjoyment to your life.  If done properly, breeding and kidding will be something you will look forward to each year, and a huge reward for your hard work and labors!
Do you have any questions or tips to add? Leave them in a comment!