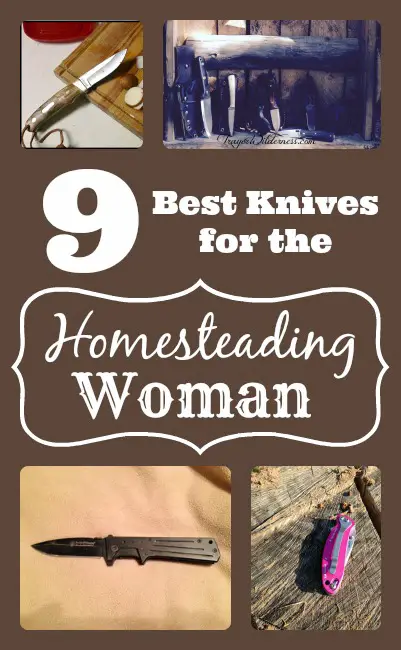 Normally when we think of knives for women we think of the small multi-tool or 2 inch folding single-blade knife mom can carry in her purse to cut strings and open packages. Rarely do we consider knifes for self-defense or as an every day tool to be used on the homestead.
Homesteading Women and Their Favorite Knives
I wanted to share my own story about my favorite knife, but I knew I wasn't the only woman who used a knife and that others may have different types and brands that they like, so I decided to ask my friends for their thoughts on knives! These women are all homesteaders or preppers and these are the knives they love.
Kershaw Chive – My personal favorite!
I've always had small knives in my purse, but this year I decided I wanted a real knife. My husband and his brother are big fans of Kershaw knives and I've used theirs many times. I was tired of borrowing them. I wanted my own. But, I didn't want the large ones they have, nor did I want them borrowing my knife all the time, so I requested pink or purple and something the right size for me.
For my birthday I received a Kershaw Chive (Amazon)
in a beautiful metallic pink. I hadn't been to the local knife shop to pick out the model I wanted so I was pleasantly surprised at how well it fits in my hand. This knife is clipped to my jeans or shorts pocket every day and is used constantly. The Kershaw Chive knife is equipped with SpeedSafe® assisted opening and opens very quickly. It has an easy to use safety to keep it closed when not in use. The Frame lock equipped blade holds its edge beautifully. The 1.7 oz. weight is perfect. And it's all made in the USA. Now, I haven't skinned any animals or cut down small trees with this thing, but I think I can say it would do those things if needed, albeit slowly because of the size.
A few stats…
Blade length: 1.9 in. (4.8 cm)
Closed length: 2.9 in. (7.4cm)
Overall length: 4.8 in. (9.9 cm)
Old Timer ProHunter series knife – LeAnn from Homestead Dreamer
I have been carrying some kind of knife or multi-tool off and on for the last 20 years. Until recently, I carried a Gerber knife around with me. One camping trip, it disappeared and I felt so lost without it! I went on a search and ended up with this Old Timer ProHunter (Amazon)
series knife and I absolutely love it! It is lightweight but strong, only 8 inches long total which makes it an extremely utilitarian knife. Having a knife handy that you can rely on is important because you just never know when you may need it, especially in rural Alaska!
Smith & Wesson: Homeland Security – Cheryl from Pasture Deficit Disorder
This is my knife I carry on my holster belt. I keep it and a flashlight in a two-pocket pouch on my belt and I never go outside without that belt on.
I like this particular knife because it's sturdy, yet compact (folding), and easy to carry on my belt at all times. I use it in garden, chicken coop, anywhere in pasture. You never know when you'll need to open something, harvest something or cut something loose.
Buck Knife: Vantage Large – Tammy from Trayer Wilderness
Here on our homestead, it is a requirement to not only be prepared for ANYTHING, it is also a necessity to be protected! We live in the northern Idaho wilderness along with the wolves, coyotes, mountain lions, bears and even the Momma Moose who has a reputation for being very violent when you get too close to her young (can't blame her – I'd be the same way)! When I dress in the morning, I include a Kel Tec P3AT .380 as part of my normal attire as well as a Buck Knife Vantage Large pocket knife (Amazon)
. These are part of my everyday attire.
I also carry one of three other knives dependent on what I have going on.
L. T. Wright: Genesis and Coyote
I have a knife that I received as a Christmas present from my husband that he hand forged in his smithy and he handmade the wooden handle and the leather sheath – this is a prized possession. I also have in my arsenal two different knives from L. T. Wright knives: the Genesis which sports our MultiFlame Mini Tool in the custom sheath that was made especially for me as a gift from L. T. Wright himself and the additional piece I can choose is the Coyote also custom made my L. T. Wright knives. These are my go to knives. The Genesis is my field knife more often then not and the gift from my Mountain Man and the Coyote are great all around homestead knives with the Coyote being extremely universal for my skinning projects this fall while hunting for our meats.
Gerber Ghoststrike Fixed Blade and the Ghoststrike Punch
I also have the Gerber Ghoststrike Fixed Blade and the Ghoststrike Punch. These two knives are a great concealed carry knife for both around the neck, in the boot or around the ankle. I highly recommend these knives for the ladies in the city that really need to be extra careful. The Gerber Ghostrike (Amazon)
I like for my survival needs because of the holes in the handle. They are easy to also attach to a stick to use as a gig, spear, etc.
A knife is something simple in your pocket that could easily save your life and also be a life saver. It is a required piece of our attire. All the knives I have mentioned have SO many uses here on my homestead and in our survival training.