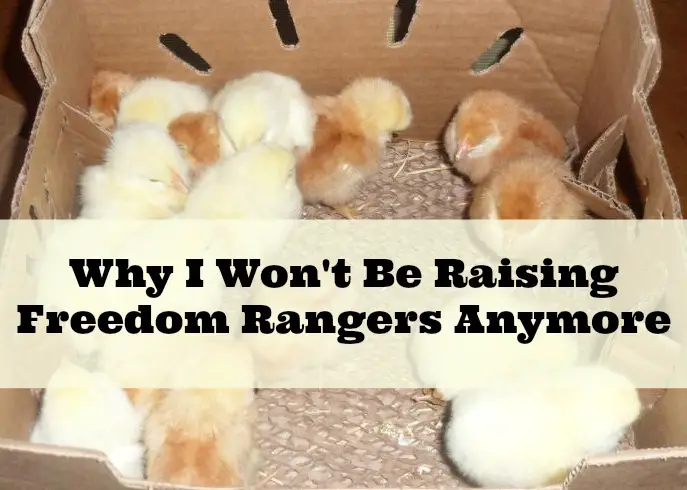 Every year my family and I raise broilers for our freezer. We typically buy 20-25 chicks and in about 8-12 weeks, we have enough fresh chicken to fill our freezer for a long time. I typically purchase my broilers as chicks from our local feed store. The type that we purchase has always been the Jumbo Cornish X Rocks, that is, until this year.
Why I Decided To Try Freedom Rangers
I heard about a different breed of meat bird from a friend whose rabbits I process. She told me that she gets meat birds called Freedom Rangers from a local hatchery and that she was able to obtain them for free because every week, there are "late hatchers" or hatchery leftovers from the main hatch. She never had a problem getting free chicks if she went in to the hatchery the Wednesday or Thursday after the hatch. She offered to pick some up for me and let me try a few. Although I had already ordered my white broilers from the feed store, I thought it was a great way to obtain extra chicks at no extra cost. I also thought it would be interesting to raise them side-by-side.
Freedom Rangers are touted to be a heritage "breed". They are said to be healthier and more likely to free range than their Cornish X Rock counterparts. They are also said to have a better flavor. So with much curiosity, I began my experiment.
The Chicken Test Begins
I got both set of chicks the same week. They were literally days apart in hatching. They were fed the same feed and were raised in identical conditions. They were moved outside at 3 weeks and given unlimited access to pasture, fresh water and for the most part, grain. Although the conditions were the same, it did not take me long to begin to notice differences and similarities between the two.
Tip: Benefits of Hen Raised Chicks
Differences Between Cornish X Rocks And Freedom Rangers
First, the Cornish grew much faster. I had already expected this after reading about it on Wikipedia. What amazed me what how MUCH slower the Freedom Rangers grew. Each one seemed to be about 2-4 weeks behind in growth compared to the Cornish. This can add up to a lot more feed, if you are raising a large amount of birds.
When it came to butchering time, I found another obvious difference. I skin my chickens versus plucking them to make butchering go faster. The Freedom rangers were very difficult to skin. They took at least twice as long to remove the skin as the Cornish. If you pluck your chickens or pay someone to do the butchering, this may not be a big deal, but if you do it at home like me, this will add quite a bit of extra time and frustration to your task.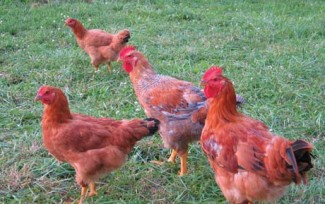 Here are two things I noticed that were the same between the two types:
1. Freedom Rangers did not noticeably free-range any better than the white broilers. I introduced both species to the grass at 3 weeks and both types seemed to do a fairly good job of ranging except in the hottest part of the day. They especially seemed very fond of the woods next to our house and would spend hours scratching and pecking in there. This was disappointing since this was a large part of why I decided to try this breed.
2. Another thing was the taste. Apparently the Freedom Rangers are supposed to be more tasty. Maybe my palate is not as discriminating as it should be, but again, there was no noticeable difference. I found both breeds to be quite tasty.
Want to learn more about butchering your own meat? We recommend this book: [sc:butcher ].
The Conclusion Of My Chicken Test

I would have to say that I probably won't raise Freedom Rangers again. Although they were free, they wound up costing me a bit more in feed and I had to raise most of them nearly a month longer. The frustration level of processing them was also something I do not care to repeat. And there were honestly no detectable benefits over white broilers. To me white broilers seem to be the most obvious choice.
Have you raised either of these breeds of chickens? We'd love to hear from you in the comments!
Tip: Hear some more about raising chickens from a mom that has had chickens since she was a little girl.