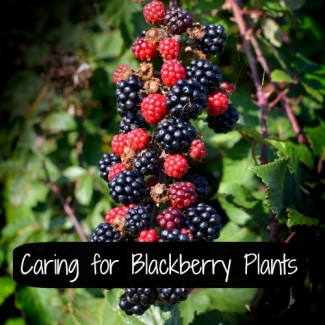 If you have a small garden area or an empty raised bed you're wanting to plant something in, then you might toss around the idea of growing some blackberries. Caring for blackberry plants isn't a difficult task and the berries are absolutely delicious! Thornless blackberry shrubs are the most common type chosen by gardeners since they are easier on the hands during harvesting time. Here are some pointers on how to keep your blackberry plants happy and healthy:
Planting
The best time to plant blackberry bushes is early in the spring. When ordering them via catalog, they will generally come in the mail at the correct time of the year. Even if you order blackberry plants in the middle of winter, they will often be shipped during springtime in your part of the world. Plant your bushes as soon as possible or store in the refrigerator until you are able to.
Three to six hours before planting, unpack and soak the bush and make sure to trim off any broken roots. Keep the roots of the plant out of the sun while it is soaking and also while it's waiting to be planted in the ground. Dig a hole large enough for you to be able to spread the roots out and allow them plenty of room to grow. Space plants 2 to 4 feet apart when planting multiple blackberry bushes. Push all the dirt back into the hole and pack it down a bit. Water thoroughly and cover with mulch to prevent too many weeds from cropping up.
Watering
For the first few weeks after planting, water the plants during the day and make sure the first inch of soil remains moist. You don't want the roots to dry out and shrivel up! During the growing season, provide the bushes with 1 to 2 inches of water per week. But, once harvesting season arrives, they will need closer to 4 inches per week. The roots are very shallow, so it's easy for blackberry bushes to dry out too much if not monitored closely in extremely hot weather.
Pruning
Do not prune any part of the bush during the first year. Use hand-held clippers each year after the first and be gentle! After the first year, plants should be pruned back to 40 to 48 inches. When blackberry bushes get too tall and lanky, they can be damaged by high winds and snow. Get all your blackberry bushes pruned early in the growing season. If there are any lateral branches coming off the canes, cut them back to 12 to 18 inches. So, when you finish pruning, the bush should be 40 to 48 inches tall and have branches no longer than 18 inches long coming off of the main cane.
Blackberry canes live for two years, but the roots produce new canes yearly. As long as you follow the pruning schedule to remove dead canes as they appear, you should always have healthy plants producing berries.
Want to do more to live off the land? We've got a book for you! [sc:byfarm ] is full of great information on how to turn a medium size yard into a great food resource.
Fertilizing
10-10-10 nitrogen fertilizer should be used. The fertilizer needs to be added several feet away from the actual plant, so as to not burn the roots with the fertilizer. You can add fertilizer once the soil around the blackberry bush has settled. Fertilizer can be used each year to help improve berry production.
I hope these blackberry bush care tips help you get a great start on your own little blackberry garden. Blackberries are excellent to eat by themselves or you can freeze them or make preserves out of them for the winter time.
What type of blackberry bushes were you thinking of planting?