What's growing on this winter in your vegetable beds? While you might think that spring and summer are the months for growing food in raised beds, fall and winter are excellent seasons to grow as well. In the fall and winter months, give your raised beds some TLC by growing a winter cover crop to enhance the soil.
What is a Cover Crop?
In part, a cover crop is just what it sounds like: it's a crop that covers the soil in your garden during the snowy and rainy months. If you live in a climate where your garden gets a lot of precipitation in the winter months, growing something green on the garden soil will help maintain your soil fertility as the rain, snow, and wind pound down. Fall and winter cover crops work well in places that experience a distinct winter season.
Why Grow Cover Crops?
A cover crop is more than a blanket, though. It's also a way to add nutrients and organic material to your soil, to enrich it before the spring comes. Popular cover crops include plants like fava beans and clover. These crops actually add nitrogen to your soil, making it better over the winter months. In the spring, turn these crops over into the soil, and you'll add some amazing nutrients to your garden.
A cover crop also adds organic material to your soil. In the hot, dry, summer months, having complex organic soil that holds water well is an easy way to ensure that your vegetable garden is successful. You want the water to stay in your soil rather than draining away every time you water. When you add mulch or a cover crop in the fall, this organic matter decomposes over the winter time. Turn over your crop in the spring, and you will add even more organic material to the soil. As it decomposes, this organic matter creates tiny pockets where air and water can enter the garden soil, making that soil more porous and healthy.
Winter cover crops also act as weed control. If you live in a place like the Pacific Northwest that sees mild winters or in an area with a warm, quick spring, you may find that your weeds get a foothold in your garden before your spring vegetables get established. By growing a cover crop, you'll have something intentional growing on top of the soil. Cover crops compete with the weed seeds in your soil and make it harder for the weeds to flourish. This saves you a lot of work in the spring months.
Cover crops also bring in the beneficial insects. When you have a lot of decaying organic matter, you'll attract decomposer animals that come to munch on that organic material. Animals like earthworms are helpful to your soil in general, and decomposing cover crops are great advertising. Other cover crops like clover and hairy vetch produce blossoms that will attract bees and other pollinators to the garden.
If you want to learn more about having a great garden even if you don't have a lot of land we recommend [sc:byfarm ].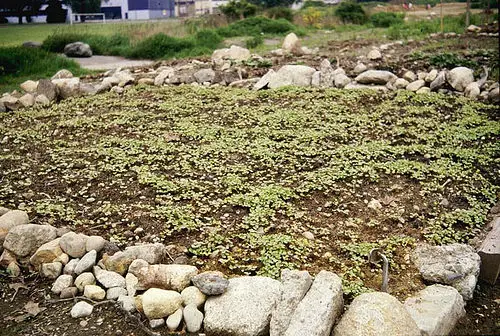 Getting Ready for Spring
Once the winter has passed, you'll start to think about growing vegetables rather than cover crops. It's best to turn over cover crops before they go to seed so that you don't grow another unexpected crop after the first one is done. Using a garden shovel or a fork, uproot the crops and turn them over into the garden. The decomposing sugars and nutrients in the cover crop's leaves will help soil life flourish and will provide your garden with a helpful boost from this green manure.
What Cover Crop is Right for You?
There are many different cover crops. Some provide animal fodder, others are particularly good for contributing organic material to the garden, while still others are nitrogen-fixing superstars. Which one is right for your garden? First, determine what attributes you need in a cover crop. Do you want a thick crop that will suppress spring weeds? Would you like a crop that builds up the soil in your new garden? Then look at this handy cover crop comparison chart. It will help you determine what crop will best fit your garden's needs.
Cover crops are so beneficial to soil life, and they're an inexpensive way to protect and enrich your soil. Save on spring fertilizers by growing your own soil nutrients over the winter months. Have you used to cover crops? Which one is your favorite?