Who doesn't love waking up to the smell of warm, gooey cinnamon rolls baking? To me, there's nothing better than a hot cinnamon roll and a fresh cup of coffee for breakfast. I often wake up in the middle of the night and can't get back to sleep. I found that making a batch of cinnamon rolls and baking them in the crockpot not only gives me something to do, but also enables me to have a tasty treat later on. Being able to make breakfast with your crock pot is great. Whether it's crock pot cinnamon rolls or slow cooker biscuits! You can use a Christmas tree light timer to turn the crockpot on when it's time to start baking the cinnamon rolls and wake up to a fresh baked batch of goodies in the morning.
Crockpot Cinnamon Rolls: Get your Dough Ready
I like to use the no knead bread recipe I use for dinner rolls. It's a simple, no-fail recipe that I resort to time and time again and I find it to also be useful for pizza dough and garlic bread sticks. Yum! I know the traditional way to make cinnamon rolls is to roll out a giant batch of dough, put the goop on, roll it all up, and then cut each roll off of the long log of dough. I prefer to pinch little balls of dough off and roll them into long pieces, like I would for bread sticks.
Crockpot Cinnamon Rolls: Bring on the Good Stuff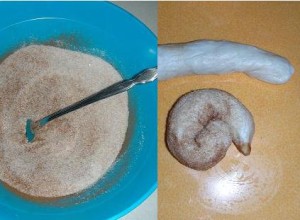 Melt ¼ cup butter and stir in ½ cup brown sugar until blended. You won't need this right away, but it's best to have it ready to drizzle on when the time comes. In a small bowl, combine ½ cup sugar and 1 T cinnamon. Mix together thoroughly and then roll each little dough snake in it. Once the cinnamon and sugar mix is in place, curl up the dough so it is in the shape of a cinnamon roll. You can make up around 10, place them on a plate, and transfer them to the crockpot when you're finished.
Prepare to Bake Your Crockpot Cinnamon Rolls
Spray the inside of your crockpot with non-stick cooking spray or line it with aluminum foil. I find using foil makes for quick removal when it comes time to eat the rolls. I can pull out the entire batch of rolls, set the foil on top of a plate, and everyone can pull off a roll at their leisure. Set the uncooked cinnamon rolls on the bottom of the crockpot so there are no spaces between each one. They should nestle nicely inside the crock. Drizzle the melted butter and brown sugar mixture over the tops of each roll.
Crockpot Cinnamon Rolls: Time to Get Cooking!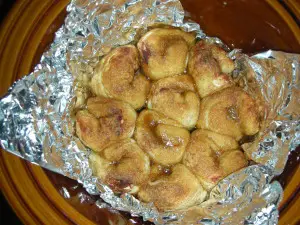 It takes 2 to 3 hours at high heat for the rolls to cook, so now is the time to either turn on the crockpot or set the automatic timer you've attached to the cord. If you want to prevent some of the condensation from dripping off the lid and onto your rolls, you can place a paper towel under and top of the crockpot before putting the lid on. This recipe is easy and perfect for days when you are busy with a number of things and would still like to bake something without having to worry about burning it. Those automatic timers come in handy in that sense too!
[sc:emealscrockpot]
What's your favorite dessert to make in the crockpot?
More Cinnamon Roll Resources:
Join us for Tasty Tuesday by linking up your favorite recipe post!