Now that October is fully upon us, fall decorating is in full swing. I typically love decorating my house with all kinds of pumpkins, gourds, leaves, and fall flowers. In fact, my husband and I usually take our daughter to buy a pumpkin or two the first cool weekend of every fall.
I got a head start on pumpkin scouting when I went to the grocery store this week – our store had tons of fun and funky decorative pumpkins for sale. This got me thinking, are decorative pumpkins and squash edible? What would happen if you cooked a strange-looking pumpkin?
 Preparing and Eating Decorative Squash and Pumpkins
As it turns out, for the most part, the process is completely safe and tasty! As long as you follow a few basic rules, you can eat nearly any kind of decorative squash or pumpkin. Here is how you can prepare some of the decorative squash you may run across:
Fairytale Pumpkins
The fairytale pumpkin is so named because it looks just like Cinderella's pumpkin coach.  These pumpkins are not only edible, but they are actually sweeter than your standard carving pumpkin. They would make tasty pumpkin pies! Cook this pumpkin by quartering it, placing it on a cookie sheet, and cooking it in the oven at 350 degrees for about one hour.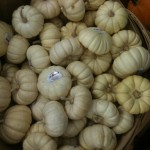 Miniature Pumpkins
Miniature pumpkins are edible and can be tasty. The only problem with the pumpkins is that they will grow bitter as they age. Eat the pumpkins within two or three weeks of purchasing the pumpkins for best results. Cook them in the oven, or cut them up and sauté for a tasty winter side dish.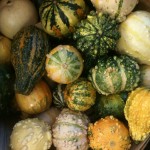 Decorative Squash
Decorative squash look like traditional squash, just with a few extra bumps, colors, and strange shapes. Before purchasing squash to eat, check the exterior skin texture. If the skin is tough, it might be an actual gourd. Gourds are extremely bitter, and not very tasty. Stick to the decorative squash with soft skins like traditional squash.
Strange-looking Pumpkins
Other than their unusual shapes, textures, or colors, there is no difference between strange-looking pumpkins and the traditional pumpkin, and you can cook them just like regular pumpkins. Cut the pumpkins into chunks and remove the skin and boil or sauté for a side dish. You can also cut the pumpkin into halves or quarters and bake them in the oven. Place the pieces face down on a cookie sheet and bake them at 350 for about an hour until soft. Puree or mash the pumpkin to add to breads or add butter and seasonings to make a tasty mash.
Pumpkin and Squash Safety Considerations
There are a few things you need to watch out for with decorative pumpkins and squash. Don't let children put the squash or pumpkins into their mouths before washing them. Many farmers use pesticides on the skin to avoid blemishes. If you purchase pumpkins to eat, avoid overly shiny pumpkins. Some farmers add a wax layer to enhance the decorative appearance of pumpkins.  Pumpkins also rot quickly, so keep a close eye on them if you keep them out for more than a few weeks. Within two or three days, your pumpkin can transform from a solid, edible fruit to a mushy, stinky mess.
Have you ever eaten decorative squash or pumpkins? How did you prepare them?