Many plants are friendly sorts. They'll sit nicely in your compost and decompose, making excellent soil for your garden. If you alternate nitrogen-rich vegetable scraps and carbon-rich old leaves, you'll create a wonderful soil amendment for your garden. Compost is not only a great way to add nutrients to your garden, it's also a good way to increase the organic content and complexity of your soil, making it more porous and able to hold water during a drought. If you love your compost, you'll want to keep it free of plant material that could make it unsuitable for spreading on the rest of your garden. As you go about your spring and summer gardening, what types of plant material should you avoid placing in your compost?
1. Invasive Species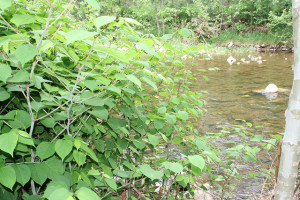 Do you have a garden that's full of Japanese knotweed, morning glory, false lamium, ivy, or other invasive species? Many of these species are popular groundcovers because of their tendency to try to take over the world – I mean, your garden.
If these plants are out of control in your garden, it can be oh-so-tempting to throw them into the compost bin. The only problem is that if they're a hardy invasive species, they'll grow back with abundance, and when you spread the compost around your garden, the weeds will grow in the places that you've spread that compost. Many of these plants grow back from small pieces of themselves.
Composting plant material at temperatures of 150 F and above should kill off the plants that might make your gardening life miserable, but if you really want to remove these plants it's best to avoid composting them.
[sc:media]
2. Weeds With Seeds
The compost bin is a great place to put your garden waste, but what about those weeds? Some weeds are prolific but will die when you pull them. Others – like the invasive species mentioned above – will spread if you chop them up and put them into the compost bin. No matter what the weed, if any of your weeds have seed heads, it's time to avoid the compost bin entirely. Those seeds will happily spread throughout the compost.
3. That Funky Goop in the Back Corner
Do you have a bin of goop sitting somewhere in your garden? You know – the place where you put all of those weeds you decided not to compost? If you have a stinky, wet mass of plant material that smells nasty, it's likely gone anaerobic. Adding large amounts of this to your compost can turn your bin into the same stinky mass. Instead, find a quiet corner of the garden away from your neighbor's fence, dry out the goop, then add it to the compost bin.
4. Big Branches
While these aren't bad for your compost, if you're composting in a small compost bin you may want to avoid placing large chunks of sticks or wood into the bin. As I can attest, they gum up the composting process and tend to decompose rather slowly. Later on, when you're removing your compost from the bin, these big chunks can make it harder to take out the compost. One alternative: bury these chunks of wood in your garden as a hugelkultur, a big composting pile that begins with a heap of decomposing wood. This is a great way to maintain soil moisture during the dry months, and it stops you from blocking up your compost with chunky pieces of wood.
5. Plants of Uncertain Origins
You might be looking for more green or brown material for your compost. Sometimes, you might feel tempted to go out and collect some of this material from others. Before you do, make sure that the materials you're collecting are safe for your compost. Do they come from a site that's overgrown? If so, that might be an old gas station or other industrial site, and those plants could be soaking up all of the toxins in the soil. If you're growing an organic garden, you'll also want to be wary of plant material that's been sprayed, especially crops that are heavily sprayed. What goes into your soil moves into your plants, so it's best to know the growing conditions of your raw materials.
How do you keep your compost bin weed-free and healthy?