Vegan recipes for kids can be time-consuming, expensive, and not very kid-friendly. That's why this is the ultimate guide to kid-friendly vegan recipes that even picky eaters will enjoy.
Getting kids to eat their vegetables is one of parents' greatest struggles. It's much easier to feed them mac n' cheese, chicken nuggets, and cold cut sandwiches. (Try giving them anything green and prepare for the temper tantrum of the century.)
Now imagine eliminating animal products from their diets. There would be nothing left to feed them!
…Or so you thought.
There are SO many amazing vegan recipes that are kid-friendly, high in protein, and don't require any special ingredients. They can be hard to find, though, so we've done the work for you and scoured the internet for the 50 best vegan recipes for kids.
My friends at Keto Resources are giving away free copies of not one but TWO Ketogenic Cookbooks TODAY.
These cookbooks are packed with 200 delicious fat-burning recipes.
==> Confirm Your Shipping Info Here (Limited Quantities Left)
Is Vegan Food Healthy for Kids?
Before we get started, let's clear the air: Don't kids need meat, dairy, and eggs to grow?
There are a lot of concerns when it comes to a vegan diet. There are even more concerns when it comes to children on a plant-based diet.
But, you don't have to worry. Many studies and health professionals have deemed a diet free of animal products to be perfectly healthy for children.
A 2010 study concluded that a well-planned vegan diet can be healthy and sustainable for kids at all stages of development. Similarly, a study published by the American Academy of Pediatrics ruled a vegan diet safe for infants and children without compromising development or nutrition.
As long as kids consume a variety of whole plants (such as grains, legumes, fruits, veggies, nuts, seeds, etc.) and fortified foods(such as soy milk, pasta, cereal, etc.), they'll be fine. 
Vegan kids may need to take certain vitamins, such as a B-12 supplement (Amazon) or daily multivitamin (Amazon), to be on the safe side. Consult with your pediatrician.
If you're thinking about incorporating more meatless meals into your kids' diets, here are some vegan recipes for kids that are quick, easy, delicious, and nutritious.
Vegan Recipes for Kids: Breakfast
Kids really enjoy hand-held food, so wrap up their breakfast in a tortilla and even the pickiest eater will dig in. Plus, these breakfast burritos are high in plant-based protein. 
Making pancakes sounds like a weekend breakfast only, but these vegan pancakes are so quick and easy that you can make them even on a busy weekdays. You only need one bowl, six ingredients you already have, and 10-15 minutes.
If your family likes savory breakfasts, you need to try this egg-free scramble. It's made with tofu and some spices. There are so many tofu scramble recipes out there, but I've saved you some time because this one really is the best.  
Granola bars are a huge hit with kids, and breakfast bars are the perfect make-ahead meal. It's a win-win for kids and parents. You can find so many vegan breakfast bar recipes — blueberry, peanut butter, mixed nuts, etc. — but kids especially love anything made with chocolate.
Smoothies are an easy way to hit nutrition targets while sneaking in some greens. This one is kid-friendly because of the banana, blueberries, and almond butter. The best part is that your little ones will have no idea that it contains spinach!
Mix the batter. Pour over waffle iron. Serve with maple syrup. It's that easy! Kids LOVE waffles, and us parents love quick and easy recipes that they'll actually eat. Everyone wins.
If you have 30 minutes to spare, your kids will love these vegan cinnamon rolls. While this isn't a healthy breakfast, these cinnamon rolls are still low-fat and low-calorie. You only need nine ingredients!
This 5-star vegan banana bread recipe only takes 15 minutes to prep and 30 minutes to bake. You likely already have all the ingredients in your kitchen, so this one is a must-try vegan recipe for kids!
Sneaking vegetables into your kids' meals is so satisfying. With these sweet potato muffins, you don't even have to feel guilty about the added sugar. They're moist, kid-friendly, and nutritious.
Oats are super versatile. You can make quick oatmeal, baked oatmeal, overnight oatmeal, or even Instant Pot oatmeal. Either way, jazz up your oats with your kids' favorite toppings: banana, nut butter, maple syrup, chopped nuts, etc.
Vegan Recipes for Kids: Lunch
Chickpea salad sandwiches are perfect for the whole family. They don't have to be heated, and they're packed with plant protein from the garbanzo beans. If you have picky eaters, chop everything finely. This recipe is a great way to introduce new foods to your kids.
A delicious way to sneak more veggies into your kids' mouths is with enriched pasta. I like the tri-colored one that contains a full serving of vegetables. I also recommend the gluten-free chickpea pasta. Serve with veggies and salad dressing, and you have the easiest kid-friendly lunch ever!
This kid-friendly school lunch idea not only looks cool, it also tastes amazing. If you need an even easier pinwheel recipe, grab some dairy-free cheese, Vegenaise, and Tofurky deli slices. Easy peasy.
If your kid is a sushi fan, they'll love these mini sushi rolls. They're easy to throw together, and they're packed with veggies.
Move over lunchables, homemade mini pizzas are taking your place. Who knew you could make mini vegan pizzas with pita pockets? Let your picky eater choose their toppings to ensure they'll actually eat their lunch!
Order a bento box for your kid, and you'll never have trouble packing a lunch again. Fill the compartments with sandwiches, veggies, fruit, nuts, dips, crackers, fruit snacks, etc. The options are endless.
This kid-friendly lunch recipe only takes 10 minutes to throw together. Your kids will get nutrients from the veggies, healthy fat from the avocado, and whole grains from the tortilla. Add some quinoa, chickpeas, or tempeh strips for a plant-based protein source.
If your kiddos are Taco Bell fans, you need to make them this vegan version. It takes about 45 minutes to make a batch, but it's so flavorful. These crunchwraps are so good you can even eat them at room temperature.
The best vegan recipes for kids are the ones you can make for dinner and send them to school with the next day. Leftovers, anyone? Potato salad is really versatile. Use it as a side or on a sandwich. This American classic can be veganized, and kids who grew up on BBQ will love it.
This school lunch recipe is perfect for when you've simply run out of ideas but still want to send your kid with something filling, delicious, and healthy. All you need are some bagels, spread, and veggies. There are no rules here — use what you have on hand or let your kid build their own.
Vegan Recipes for Kids: Dinner
Kids could eat mac n' cheese every single day and never get tired of it. But that's a lot of cheese! If no one in your house has a nut allergy, try cashew-based cheese sauce. You won't believe how cheesy, creamy, and flavorful this dairy-free mac n' cheese recipe is!
Need a break from cooking? Build your own pizza night! Gather some store bought pizza dough, marinara sauce, and endless toppings. Dairy-free mozzarella is optional.
Every parent wants their kid to enjoy a wide variety of foods, but that can be impossible with picky eaters. Incorporating new foods in veggie burgers is one way to do that. These sweet potato black bean burgers are especially delicious because they're so smoky.
Kids + chicken nuggets = pure joy. Enough said.
This vegan dinner recipe comes together in less than 20 minutes. You only need one pot, and it's filled with veggies: eggplant, broccoli, zucchini, and more. This is the perfect vegan recipe for kids that makes veggies taste good.
Mexican food is extremely vegan-friendly. Throw together some rice, beans, salsa, guac, and tortillas, and you have a flavorful meal with all your macros. These walnut meat tacos take it up a notch. If you want to incorporate more plant-based protein in your kid's diet, definitely try this one.
Sloppy Joes — you either love 'em or hate 'em. If your family is on the sloppy joe train, swap out the beef for vegan meat. You can find Beyond Meat at most grocery stores, and it's soy-free and gluten-free. This recipe comes together in just 10 minutes and feeds the whole family.
Meatloaf isn't just for holidays. Or carnivores. This is the perfect comfort food that can be made meat-free and quite healthy. It contains walnuts, lentils, and flaxseeds in place of meat. Don't worry — all the spices really jazz it up. Pair with creamy mashed potatoes and green beans.
The best way to prevent your kid from becoming a picky eater is to get them out of their comfort zone. Everyone loves noodles, so whip up this one-pot pad thai recipe for the whole family. 
Buddha bowls (a.k.a. Nourish bowls) are a staple in vegan cuisine. Essentially, you can toss together your favorite healthy foods. Pick from your favorite grains, legumes, greens, veggies, and sauces. Voila! You have an effortless and nutritious meal.
Vegan Recipes for Kids: Snacks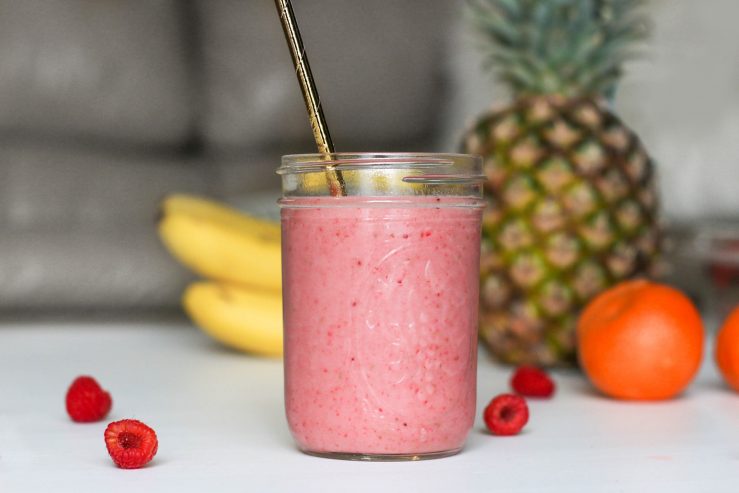 Bliss balls, energy bites, protein balls — whatever you want to call them, this recipe is the perfect after-school snack. No baking required!
These kid-friendly granola bars only require 5 ingredients and 15 minutes of bake time. Kids love to help in the kitchen, so let them combine and mix the ingredients.
If your kids love buffalo chicken wings, they'll love this healthy alternative. It's made with cauliflower, which has a chewy texture similar to chicken.
Seasoned and roasted chickpeas are the perfect kid-friendly snack that tastes like an indulgence, but it's actually healthy. Plus, they're super easy to make and high in protein!
Consider this one more of an appetizer than a snack. It takes about an hour to prepare, but it's so worth it. Your kids will love this one on game day.
Did you know most store bought granolas contain honey? For most vegans, honey is off-limits. This DIY granola is perfect for topping yogurt, cereal, or just snacking on.
Want more sneaky ways to get your kids to eat veggies? Dips! Avocado dip is fail proof, but you can also try hummus, spinach dip, or artichoke dip.
Who doesn't love cheese? Vegan kids and those with dairy allergies should still be able to enjoy chips and dip! Now they can. You can make vegan cheese dip at home or look for a store bought one.
Got black beans and corn in the cabinet? Then whip up these quick and easy quesadillas when the kids get out of school! These will definitely hold them over until dinner.
It doesn't get any easier than this. However, you don't need a recipe to make a delicious smoothie. Just add fruit, plant-based protein, peanut butter, and some almond milk.
Vegan Recipes for Kids: Dessert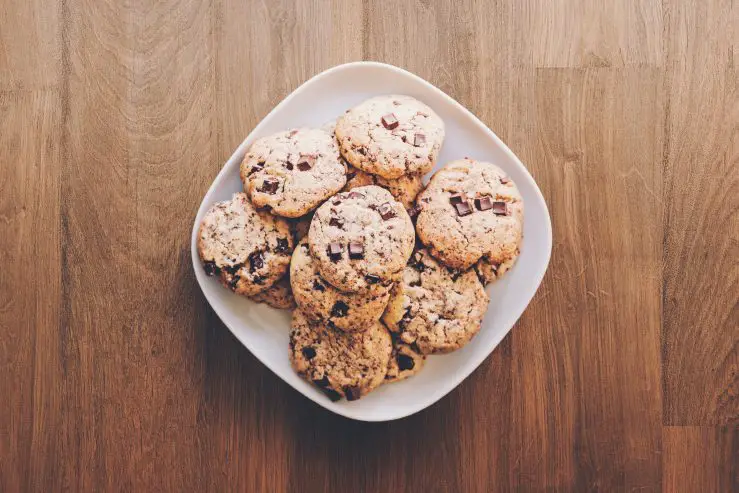 Want the whole house to smell like a bakery? Make this recipe. These vegan cookies are thick, gooey, and super soft.
You won't regret making these super easy vegan brownies. You only need four main ingredients and just 30 minutes. I recommend adding walnuts!
It doesn't have to be someone's birthday to make cake. Your kids will be super surprised (and thankful) if you make this vegan cake just because.
15 minutes to make an entire pie — Are you kidding me? This pie requires some refrigeration time, but it's one of the easiest vegan dessert recipes out there.
Kids go crazy for donuts, so make this for dessert and save the leftovers for tomorrow's breakfast.
If you have a high-powered blender, you can make this healthy dessert every night without feeling guilty. You just need frozen bananas and cocoa powder!
We've all eaten raw cookie dough even though you're not supposed to. Luckily, vegan cookie dough doesn't contain raw eggs.
If you haven't tried the dessert hummus from Shark Tank, here's your chance. It's super easy to make, relatively healthy, and kids can use fruit for dipping.
Finding vegan and allergy-friendly dessert recipes can be a challenge. This gooey, doughy monkey bread is perfect!
Which vegan recipes for kids will you try?
Many people are participating in Meatless Monday and slowly switching over to a plant-based diet. Hopefully you see that vegans don't live off "rabbit food" and salads.
If you have children but want to try more plant-based recipes, you should try these vegan recipes for kids. This guide proves that vegan food can be kid-friendly, nutritious, delicious, and accessible to everyone.
How you feed your family is totally up to you. Let these vegan recipes for kids serve as inspiration!
What do you think about making vegan recipes for kids? Let us know in the comments below!

My friends at Keto Resources are giving away free copies of not one but TWO Ketogenic Cookbooks TODAY.
These cookbooks are packed with 200 delicious fat-burning recipes.
==> Confirm Your Shipping Info Here (Limited Quantities Left)