What is Thuja?
The thuja tree is sometimes planted as a hedge or windbreak. It features broad, winged seeds and scaly leaves. Thuja is native to northeastern North America yet is widely cultivated in France. The essential oil is produced in Canada and the United States.
Thuja goes by many names: American Arborvitae, eastern or northern white cedar, swamp cedar, and the tree of life. The oil may be called cedar leaf. Thuja plicata is a red cedar, also known as Washington cedar.
Arborvitae trees are coniferous, meaning they grow cones. These cones are at the end of the branchlets of the tree. Male cones are shades of yellow to red while female cones are smaller than the male and usually green or sometimes purplish. [1]
There is also Thuja orientalis, which also goes by the botanical name of Biota orientalis. This is the Chinese or Japanese cedar. Another version yields a resin called "sanderac," which comes from the North American T. articulate.
Thujopsis dolobrata, or the hiba tree, is used in Japan to produce leaf and wood oils. According to what is known about hiba wood oil, it is a non-irritant, non-sensitizing, and non-toxic. It has many ketones present, making it highly resistant to bacteria and fungi.
It is also used in Japanese manufacturing as an industrial perfume.
The fresh bark, leaves, and twigs are steam distilled to create the essential oil. The resulting volatile is high in thujone, which makes it an oral toxin and abortifacient. In other words, it is a poison that should not be used at home.
Thuja is one of those plants that must live for a long time before it is able to be used for essential oil production. In this case, the tree should be at least 15 years old before it is tapped for oil.
The oil is colorless to a greenish-yellow and goes well with some other oils. However, as you should not be using it unless you are a well-trained aromatherapist, they will not be listed here.
Thuja Essential Oil Uses
As this is not an oil you want around the house, here are some of the ways it is used now as well as in the past.
Commercial Uses Today
Thuja oil is still employed in several industries. The following are just some of the ways it is used:
In analgesic products as a counter-irritant.
In disinfectants and sprays in pharmaceuticals.
As a fragrance in some perfumes and toiletries.
As a flavoring in many foods.
In all of the above, the thujone must not be traceable in the finished product.
Folk / Historical Uses
There are many ways that thuja was utilized throughout history.
Ancient civilizations used it in rituals as an incense.
Thuja leaf decoctions treated coughs, cystitis, fever, intestinal parasites, and venereal diseases.
Ointments made from parts of thuja were used for gout, psoriasis, rheumatism, verrucae, warts, and more.
Interestingly, the British Herbal Pharmacopoeia still lists thuja twigs for use for bronchitis, cardiac weakness, and warts. [2]
Thuja Essential Oil Benefits
While it is an oil off-limits to smart home users, thuja does have with some benefits. Unfortunately, these do not outweigh the poisonous risks. The oil is a/an:
Antirheumatic
Astringent
Diuretic
Emmenagogue
Expectorant
Insect repellent
Rubefacient (counterirritant that produces skin redness)
Stimulant to heart muscles, nerves, and uterus
Tonic
Vermifuge (expels intestinal worms)
May Help Colds
According to WebMD, there is a specific product on the market that contains thuja that may help people reduce the longevity and severity of the common cold.
It contains vitamin C, echinacea, wild indigo, and thuja extracts. [3]
Use This Infographic On Your Blog
Thuja Essential Oil Research, Facts, and Studies
Can Cause Seizures
The thuja oil found on the market usually contains approximately 50%a-thujone. An elderly woman, on the advice of a "naturologist," was told to ingest 20 drops per day for five days.
The practitioner had told her to dilute the thujone to one percent; however, she did not take this advice and was taking one drop neat of the oil.
After the tenth dose, the lady suffered a tonic seizure. She fell during the incident and fractured her skull. [4]
Thuja Overdose
Thuja is not safe to take internally as some suggest. Overdose symptoms include:
Asthma
Nausea
Painful diarrhea
Seizures
Vomiting
The main constituent in thuja, thujone, causes symptoms like:
Asthma
Low blood pressure
Seizures
These can cause death.
Thuja should not be taken by pregnant women as it may cause a miscarriage. Likewise, it should not be used by breastfeeding women because the toxicity could be passed to the baby.
Those with autoimmune diseases like lupus, multiple sclerosis, or rheumatoid arthritis should stay away from the oil or extract as well, as symptoms could increase with use.
Since the oil may cause seizures in people even if they have never experienced one before, it should most certainly not be used by those prone to them.
There are also major interaction warnings with thuja and antiseizure medications as well as medications that could increase the risk of seizures. These include: [5]
Anesthesia (propofol, others)
Antiarrhythmics (mexiletine)
Antibiotics (amphotericin, penicillin, cephalosporins, imipenem)
Antidepressants (bupropion, others)
Antihistamines (cyproheptadine, others)
Carbamazepine (Tegretol)
Gabapentin (Neurontin)
Immunosuppressants (cyclosporine)
Narcotics (fentanyl, others)
Phenobarbital
Phenytoin (Dilantin)
Primidone (Mysoline)
Stimulants (methylphenidate)
Theophylline
Valproic acid (Depakene)
Conclusion
Thuja was once widely used medicinally. There are still many people who recommend it today, although this advice is typically found on websites that are less than reputable and written by untrained, albeit well-meaning, individuals.
If you look for advice for using thuja in books written by those who are trained in aromatherapy and have been using essential oils professionally for years, you will find a much different viewpoint.
So, unless you are one of those who has extensive training in oils through a reputable school, please do not use thuja. It is always best to choose a safer oil in any circumstance than to take risks!
Safety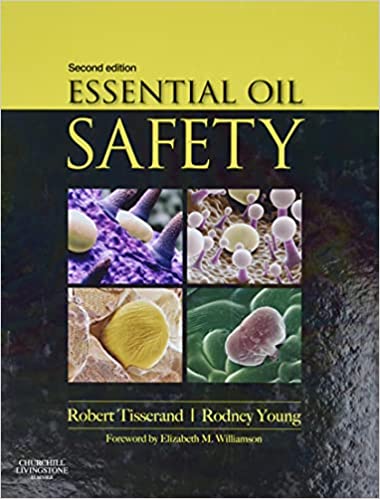 Correct selection and use of essential oils is crucial to ensure that you enjoy the best benefits of oils, without any of the downsides. Remember, some essential oils can be very potent and powerful. We therefore highly recommend this book to all of our readers: Essential Oil Safety: A Guide for Health Care Professionals 2nd Edition