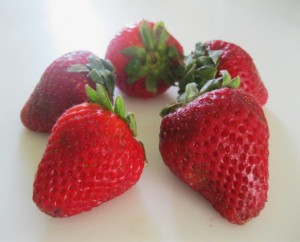 Strawberries – lovely, red, juicy, and sweet. They're delicious by themselves, and even better in jam and other recipes like cast iron strawberry pie. In fact, the only drawback to their amazing goodness is that they only last a few days when you buy them fresh – and even if you might WANT to eat the whole flat of strawberries you just picked up on sale, you might go into a sugar coma if you do. So, what do you do if you want to preserve the sweet flavor of fresh strawberries without pureeing, cooking, or drying them?
The answer is as close as your freezer! Freezing strawberries is one of the best (and easiest) ways to preserve strawberries for months without losing one bit of flavor. (Be aware, though – frozen berries just aren't the same texture-wise, once you've thawed them out. They get mushy. Frozen strawberries are still fabulous in shakes or cupcakes, or my favorite – frozen lemonade!)
Step One: Select the Specimens
The first step is buying the strawberries you want to freeze. Simply go to your local supermarket, preferably the one with the cheapest strawberries, and pick whichever package(s) of strawberries you like best. Tip: hold up the container and look from the bottom so you're not blindsided by moldy berries when you get home! Get as many as you like; as long as there's space in your freezer, there is no limit to the number of strawberries you can freeze!
Step Two: Wash and Chop Those Berries!
Now that you have the strawberries in your happy little hands, you can proceed to step two: wash them and cut them up. (Note: if you prefer whole frozen strawberries, make sure they are completely dry before freezing them, or they will get freezer-burn.) Shake the strawberries into a colander, and wash them thoroughly under running water, rubbing each fruit under the the water to make sure there aren't leaves or clumps of dirt stuck to the skin. Next, use a cutting board and a sharp paring knife to slice your strawberries in whichever shape you prefer.
Step Three: Bag 'em and Tag 'em!
The final step in your berry-freezing adventure is to take the washed, sliced strawberries and put them in ziploc bags.
Make sure you have the bags ready and open before you cut the strawberries up – then, using a spoon or ladle, just scoop as many strawberry pieces as you wish into each plastic bag. Don't seal them yet; just move onto the next bag until you run out of strawberries. When you've filled as many bags as you can, take each bag, suck all the air out, and seal it. After you finish sealing the bags, get a permanent marker and put the current date on there so that you know how long your strawberries have been in there when you dig them up a few months from now.
When you're done with that, put the bags in your freezer and every time you feel like fresh strawberries, remove a bag and thaw the contents! Don't be surprised if they disappear very quickly from your freezer :)
Here are some that have been frozen for a few months – still as good as new!
What are your favorite strawberry recipes?