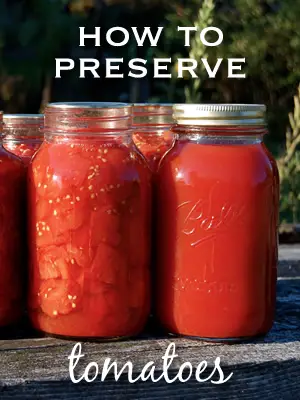 I don't plant a garden just to have something to do during the summer. While it is an excellent way to get fresh air and a bit of exercise, it also provides me with goodies to put in my prepper pantry for the winter. There's nothing like fresh veggies from the garden, but the next best thing is opening up a jar of something you canned with your own two hands. If canning isn't your thing, then maybe you can find someone to help you out with your first time. It's actually a lot of fun!
Prepping the Tomatoes
I always get my tomatoes or salsa ready before preparing my canning jars and lids. 13 pounds of tomatoes will usually fill about 9 pint jars. Remove the tomato skins by washing tomatoes and dipping them in boiling water for up to 60 seconds. The skin will split and start to peel off while in the water. When you see this happen, take the tomato out of the boiling water, dip it in a bowl of cold water, and peel off the skin. If the tomatoes are large, you will need to halve or quarter them so they fit in the jars better.
Congratulations on learning to put up your tomato harvest! Doing things like this yourself is a lost art. Not many live a self-sufficient, prepared lifestyle these days. [sc:getprep] is a great resource to help you on your journey. If you have any questions about it, feel free to contact us via Twitter or Facebook and be sure to read our review here.
Once all the tomatoes are peeled and cut up, place them in a saucepan and add water to cover them. Bring them to a gentle boil for 5 minutes. As soon as you place the tomatoes in their pan of water to boil, go ahead and get the lids and jars ready too. If you have a favored salsa recipe, then this is the time to add the ingredients to your tomatoes.
Getting the Jars and Lids Ready
Bring a small saucepan of water to a boil and allow the lids to gently boil for about 10 minutes. If you don't get the rubber portion around the lid hot enough for a long enough period of time, it won't seal itself against the jar when you screw the metal ring into place. As for the jars, wash them in warm, soapy water and rinse well. Stand them up in a large pot and cover them with water. Bring to a gentle boil for 10 minutes and leave them in the water until you are ready to put the tomatoes or salsa in them.
Water Bath Canning
I've never had a pressure cooker of my own, so I generally use the boiling water bath canning method. Use the large pot the jars were boiled in and make sure to have an additional pan of boiling water on the stove. You might have to add more to the large pot once the filled jars are placed inside of it. Remove a few jars from the boiling water and turn them upside down on a clean dish towel to drain.
When the tomatoes are ready, add a squirt of lemon juice and a pinch of salt to the jar before ladling in the tomatoes. Pour some boiling water over the tomatoes, but leave a ½ inch space between the water and the top of the jar. Wipe off any goo from the rim of the jar, place a hot lid on top of the jar, and secure by screwing on the metal band. Once you have all the jars filled and secured with bands, place them in the large pot of boiling water.
There needs to be a couple of inches of water covering all the jars. If you need more water, use the extra pan of boiling water and pour it between the jars; not on top of them. As soon as the water comes to a boil, set a timer for 40 minutes if you used pint jars or 45 if you used quart jars. Remove the jars from the boiling water and make sure each jar is sealed. You can tell if a jar has sealed correctly by the flattened or possibly concave look of the lid. If it still sticks up and makes a funny popping sound when you press on it, then it didn't seal correctly. You may need to remove the lid, add a new one from the boiling water, and try sealing it again. If you don't want to go through this again, you can always put the unsealed jar in the fridge and make sure you use it within a week. Allow the freshly canned tomatoes to cool before putting them away in the pantry or basement. They will last about a year in a cool, dark, dry place. If you don't have a dark place, wrap each jar in newspaper and place them all in a box.
Another Option for Preserving Tomatoes
I know not everyone has a bunch of canning jars, lids, and metal bands on hand. If this is the case for you, and you have plenty of freezer space, you can always freeze your tomatoes instead. Skin and cook the tomatoes as mentioned above, but allow them to cool a bit afterwards. Add a squeeze of lemon and pinch of salt to a quart-sized freezer bag and then ladle in the tomatoes. Wipe off any tomato gunk from the zippered section of the freezer baggie, squeeze all the air out of the bag, and seal it. It's best to store tomatoes in a deep freeze, as opposed to a self-defrosting freezer, to avoid the development of ice crystals on your tomatoes while in the freezer.
Do you have a favorite salsa recipe you like to use your tomatoes for?
More Tomato Canning Tips