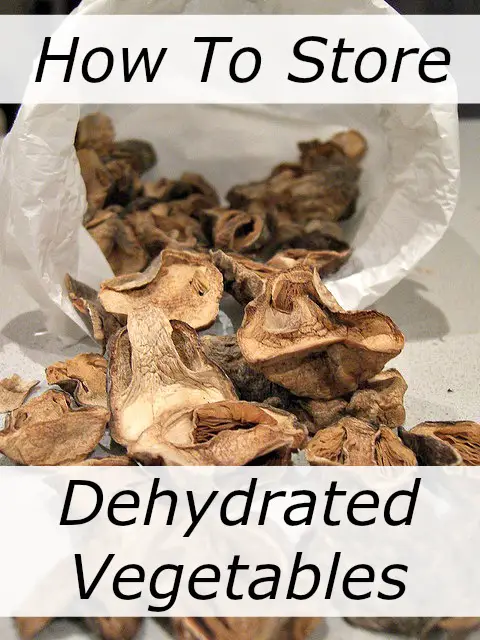 It takes a lot of work to dehydrate vegetables. Finding just the right veggies that are both at their peak of ripeness, and in perfect condition, is just the first step. Then: cleaning, washing, and slicing into the right thickness before drying in the correct temperature for just the right amount of time. Whew! That's a lot of work – too much work to allow the dried product to ruin with improper storage methods.
How to Store Dried Vegetables
Let's look at the best ways to properly store dried vegetables to keep them in a usable, nutritious condition for as long as possible. Normally, the storable shelf-life for vegetables is only 6 months but with proper packaging you'll get months more storage time with little or no reduction in quality.
Tip: How To Make A Batch Of Dehydrated Soup Mix
Optimum Storage Conditions for Dried Food:
Allow dried food to cool completely before packaging.
Airtight is best. Vacuum sealing in small amounts allows best preservation. If a batch goes bad it's better if it's a small batch.
Cool and dark are your friends when looking for places to store dried foods. Temperatures lower than 60 degrees are preferred. Best: vacuum seal and then freeze.
Watch your freshly packaged dried food for any water condensation that might form on the inside of the packaging. This indicates that the food needs to be dried more, so take the time to be sure all the moisture is removed before repackaging the dried veggies.
Tips for Using Dehydrated Vegetables
Dehydrated Vegetables: Check for Moisture
A good way to be sure you have removed all the residual moisture in the vegetables is to place the dried vegetables into a large container: plastic or glass is fine. Fill the bowl between half to two thirds full, cover it with a clean kitchen cloth and set it aside in a warm place, not in the direct sun light. Leave it in this place for ten days. Every day you should pick it up and shake it it to rearrange the dried pieces of vegetable. Also daily watch for drops of moisture to form on the inside of the container, indicating the vegetables need more time in the dehydrator.
Tip: How To Reconstitute And Cook With Dried Vegetables
Dried Meats and Veggies: Inspect Before Use
Always thoroughly inspect dried meats and veggies before you use them. Check for mold, moisture, or anything that wasn't there when it was packaged.
After a batch is opened and only partially used, either vacuum seal the remainder or freeze it in a freezer bag with minimum amounts of air inside.
Need to add some flavor to your dried vegetables? Learn all about herbs at [sc:HerbalAcad ].
Storing Dehydrated Food
These steps should assure your batch of dehydrated garden-fresh produce will last as long as possible in storage with little degradation in quality. To sum it up: if you remove the oxygen and keep it out, and keep dried foods like sun-dried or oven-dried tomatoes in a dark place, you will increase the chances that the foods you lovingly harvested and put up will last until you need them.
Have you discovered other ways to increase storage life of your dried vegetables? We'd all love to learn from you!