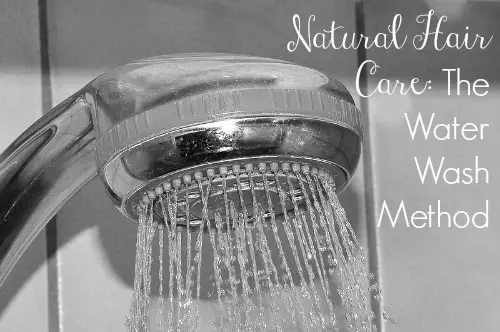 Many preppers look for better or more natural ways to care for the hair. There are many natural hair care methods, including the vinegar and baking soda method, honey method, lemon juice and even egg yolk. Then, there is the water-wash method, where you use nothing on your hair at all.
I tried the water-wash method for about 6 weeks. Here are my experiences with this rather revolutionary hair care method.
How to Use the Water-Wash Method
The steps in this washing method are simple, but you have to do them all or your hair really does look greasy.
First, wash your hair each day in really hot water. It can take over a month before your hair starts to feel less greasy, but for me, I noticed a reduction in greasiness at about the 2-week mark. You can gradually cut down on the amount you rinse your hair with water as the greasiness decreases over time.
Second, brush your hair with a natural bristle brush (like boar bristle) twice a day. The old recommendation to brush your hair 100 strokes for each section is important. This distributes the oil from your scalp to the ends of your hair and eliminates much of the greasy look and feel.
Third, clean your brushes regularly. Brushing is how you remove most build-up from your hair, which means that they will get dirty faster.
If you are feeling like your hair is particularly gross during the detox period, wear your hair up, or put on a hat.
Need ideas of how to wear your hair up? DIY Braids: From Crowns to Fishtails, Easy, Step-by-Step Hair Braiding Instructions should give you lots of ideas!

What Happens with the Water Wash Method
At first, your hair feels really greasy and gross. You can feel the dirtiness of your hair. It feels heavy. I hated this period.
After 2-3 weeks, your hair will start to produce less oil. I have a fairly oily scalp and before I did this experiment I had to wash my hair every day or every other day.
Your hair will gradually produce less and less oil, but your hair texture will change. Don't expect your hair to look like it does after a commercial shampoo wash because it won't. Some women describe the new look of hair as more "fur-like" and that is an accurate choice of words. Your hair will have more oil on it than after commercial shampoos during the detox period (which can last up to 3 months), but your hair will be easier to style and you will have fewer flyaways.
[sc:media]
Benefits of Water Washing
Your hair will be easier to style.
You will have fewer flyaways.
You won't be using any chemicals on your hair at all.
Your scalp will have time to heal after the use of harsh chemical products.
Your hair will naturally start producing less oil so you can wash it less often.
Drawbacks of Water Washing
Your hair will have a sort of fur smell to it. I could never get it to leave.
It takes a long time to brush the hair enough each day. On days when I didn't brush my hair enough, it looked oily.
When I wash my hair with shampoo, it brightens after the wash. Washing with water only never made my hair as bright as I wanted.
Overall Thoughts on Water Washing
Ultimately, I decided that water washing was not for me. I never quite felt like my hair was clean enough, and I hated taking the time to brush it out so many times a day. I've read that extending the trial period to 2-3 months could bring better results, but I was not willing to try it for that long.
However, since using water only, I now only have to wash my hair every 4-5 days before it starts to look greasy. I think that my scalp naturally produces less oil now after quitting traditional shampoo.
Have you tried the water-wash method? What results did you have?