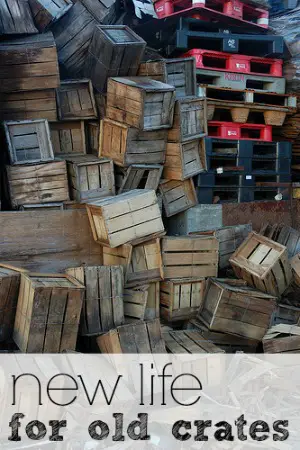 Upcycling old crates can be just as fun as making pallet furniture or upcyling any other old wooden item. Pallets and Crates are sturdy and the character they acquire after years of service as shipping flats and containers make them very interesting pieces.
I don't think I've ever seen an old wooden crate that I didn't want to take home and use.
There are crates full of my stuff all stacked neatly in the garage and in the attic and, if I had to choose between keeping the stuff and keeping the crates, I'd keep the old crate and throw the stored items away. The crates are just so cool! Here are a few ideas of how you can use crates in your home.
Decorating With Crates
This beautiful wall of kitchen shelving consists of these old crates with the bottoms removed and stacked just so. Isn't it great!
Crates…my new love. And a tutorial.
This step-by-step crate shelf tutorial shows you how to make this great bookshelf.
New Designs From Serena & Lily
These old wooden crates on wheels would serve as great toy boxes, magazine and book carts or to hold any number of objects. Inspirational, don't you agree?
Continued on next page