I love my crockpot/slow cooker to pieces and finding new ways to use it always makes me extremely happy. I got a new book last summer for bread recipes that don't have to be kneaded (since that's the worst part about making bread, in my opinion). I used the master recipe in the book, shaped it into rolls, and cooked them in the crockpot to see how they would turn out. I have to say, I was pleasantly surprised at how lovely they looked when finished. Now that I know I can use my crockpot for baking bread, who knows what else I can do with it and my prepper stockpile!
No-Knead Crockpot Bread Supplies Needed
Here's the list of goods needed for making the Artisan no-knead bread:
• 1 ½ C Lukewarm Water
• 1 Packet Granulated Yeast
• ¾ Tsp Coarse Salt
• 3 ¼ C All-Purpose White Flour (unsifted)
• Cooking Spray
No-Knead Slow Cooker Bread: Mixing the Dough
Warm the 1 ½ C water to around 100°F before adding the yeast and salt to it. If you use warm water, the dough will rise in about 2 hours. You can use cold water as well, but the rising time will be twice as long. Add in the packet of granulated yeast and the ¾ tsp of salt. Give it all a little stir. Don't worry if the yeast and salt don't dissolve completely in the water. You can still add in the 3 ¼ C flour. Add in the flour all at once and stir. If you have a mixer with a dough hook, then you don't have to work as hard to get everything mixed together. However, if you're doing everything by hand, then you might need to switch to using your hands to mix the dough after a while. It only takes a few minutes to get the dough all mixed together.
If breads are your weakness… Ok, I'll admit. If it has the word 'bread' in it, I'm probably guilty of having tasted it, if not tried to make it myself. So, The Bread Bible: 300 Favorite Recipes (Amazon)? I want it. Really, really want it.
Allowing the Dough to Rest
Place the dough in a large bowl and allow it to rest at room temperature for 2 hours if you used warm water. It might take up to 5 hours for your dough to rise if cold water was used in the beginning process. For the best turn out, place the dough in the fridge for at least 3 hours before shaping into rolls or a loaf and baking it.
Time for the Crockpot!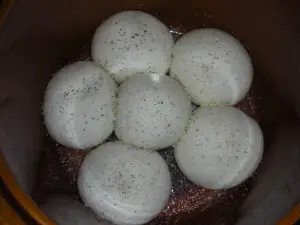 Take the dough out of the fridge and tear off a small chunk. I usually make dough balls slightly larger than a golf ball. In the crockpot I have, 6 dough balls will fit perfectly with plenty of room for expansion. Roll out balls of dough, spray the inside of your crockpot, and evenly space the dough balls around the bottom of the crockpot insert. Allow the rolls to rest for 40 minutes. After the resting period is up, put the lid on, turn the crockpot on high, and set a timer for 2 ½ hours. I checked the rolls after 2 ½ hours had passed and decided to leave them in for another 30 minutes. I think they came out perfect! They were even slightly browned, just like they would be in the oven. Amazing!
[sc:emealscrockpot]
Get Creative with your Dough
I sprinkled some garlic salt, and a mix of herbs I had on hand, on top of the rolls before I started baking them. You can mix in some bacon bits or shredded cheese if you want. The great thing about this recipe is that you really can't mess it up. I love it! If you want to mix in herbs before baking your rolls, combine ½ tsp dried thyme and ½ tsp dried rosemary in the water before adding in the yeast and the salt. The baking time will still be exactly the same. Oh, and if you have any leftover dough, this particular recipe enables you to store the dough in an airtight container in the fridge for up to 14 days. So, you can make crockpot rolls anytime!
More No-Knead Crockpot Bread Recipe Resources:
Do you have a favorite bread recipe you'd like to try in the crockpot/slow cooker?