Everyone loves a fleece scarf and they make great gifts so I want to show you how you (and your kids!) can make one in less than 10 minutes!
No sewing required. How's that for easy?
You can buy fleece at almost any fabric store or on Amazon as an add-on item for convenience. 
Here's a really nice 60″ one of some jolly owls (Amazon).  Perfect for your kids who I'm sure will get a ton of comments at school!
Ours has bolts of it that tempted me greatly. But what I settled on was a fleece blanket kit that came with two pieces of coordinating (one solid, one print) fleece. I like it because it feels softer and thicker than the fleece on the bolts. And? I really love the snowflakes and reindeer pattern! The other piece of fleece is solid gray. I'll be able to make at least 6 scarves from the two pieces, maybe 8!
What you need: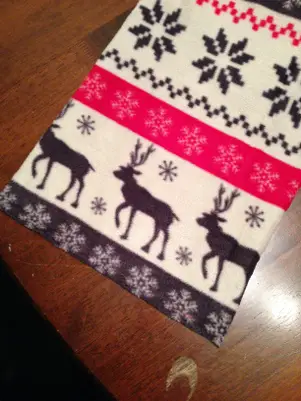 Step One – Trim the Edges
If your fabric was cut in the store, chances are the edges may be a bit jagged. Just trim them a bit so they don't look sloppy. Then trim the salvage ends off since they're usually ugly.
Step Two – Cut Fringes
Using a sharp set of scissors cut 1/2 wide strips about 4 inches into the ends of the scarf.
Step 3 – Tie (Optional)
Now, you don't have to tie the fringes… I'm doing some with and some without. But, I really do like the finished look the ties give! Wrap one fringe around your finger to the right, bring around back coming forward on your left then tuck the end down thru the loop you just made and pull gently. No need to pull tight, that will just make the knot tiny and hard.
You're done!