Ouch! What was that? A mosquito bite, a sting, or a small cut that you get outdoors can be painful. Luckily, there are plants that can help you with that pain. These plants are also very useful in the playground. When your child gets a cut or a mosquito bite and you've forgotten the first aid kit, you can easily treat these small wounds with common plants.
Common Plantain
You might know plantain as a big banana. This is not that plantain. Common plantain (Plantago major) is a fairly common garden weed in many parts of North America. It's also very useful. Not only is it edible, but it also makes a great poultice for small wounds and rashes such as mosquito bites and stinging nettle. Chew it until it's juicy and place it on the wound, or squish it between your clean fingers until the plant's juices come out. Place it on the wound and it will help stop it from itching or getting inflamed. You'll often find plantain in lawns or in the grassy areas of parks. Make sure that the plantain you use is from an area where dogs and people do not walk very regularly.
Broadleaf Plantain
This variety of plantain can be eaten! See Karen's post, Broadleaf Plantain – Food and Medicine Beneath Your Feet for uses and a recipe!
Learning about Nature's Healers is such an important part of your journey to living a prepared life. Any time we can learn to use something from nature or grow something ourselves we're becoming more self-sufficient. To help you along on your journey, may we recommend one of our favorite books? It's [sc:getprep] by Robin Edgerton and Angela England.
Yellow Dock
Yellow dock (Rumex spp) acts in a similar fashion to plantain. While some find that plantain is the key to relieving heat, itchiness, and inflammation, others enjoy the skin-soothing properties of yellow dock. Like plantain, it's often considered to be a weed and grows in disturbed areas like roadsides. Squish the leaves onto a bite or sting, and you'll likely find relief.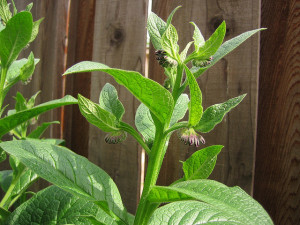 Comfrey
Comfrey (Symphytum) is a helpful plant that many people grow in the garden, and once it's growing it will spread easily. It's a wonderful mulch plant and speeds up the compost, and it's also a healing herb. While plantain and dock help sooth wounds, comfrey is the go-to plant for rapid wound healing. Make sure that wounds are relatively clean before applying a comfrey poultice.
Using plants for wounds is helpful, but it won't heal everything. Be aware that stings and cuts can be dangerous. Some people are allergic to stings and bites – watch for signs of allergies, such as excessive swelling or difficulty breathing. Whatever you use to help heal your minor wounds, make sure that your wound is clean and healing well without infection. If you are concerned about allergy symptoms, tetanus, or infection, seek medical advice.