Permaculture is a design system for your garden and beyond. It focuses on using your space to create the most effective and sustainable garden possible, developing an understanding of your land that allows you to design gardens that work well for your space and for you. We've collected some inspiring examples of permaculture garden installations to get you growing
1. Grow Friendly Plants
Do your plants like each other? Growing plants that work well together is a good way to pack more diversity into a small space, and it's a way to get multiple yields from one small space.
Guilds are plants that work well together. The most famous is probably the Three Sisters Guild: corn, beans, and squash. The tall stalks of the corn help the beans grow, the beans place nitrogen into the soil, and the squash leaves keep the ground cool and damp. Permaculture guru Toby Hemenway has some good questions to guide you in creating your own guild.
Food forests take the idea of friendly plants to a much higher level – literally. A food forest is based around a single tree or multiple trees, and the plants that grow in it work with that tree. The tree provides shade, keeps the soil damp and mulched, and keeps soil from eroding. Other plants growing under the tree give their own contributions. Some aerate the soil or suppress weeds, while others attract bees that will pollinate the tree. Check out this Chicago example of a food forest in action.
2. Water, Water
Valuing, storing, and using the resources that we have on hand is an important principle in permaculture. While you may not have an overabundance of water in your garden, storing, using, and reusing the water that is there will help your garden grow.
If you have trees, you may have dead branches or other bits of wood lying around. Hugelkultur beds use this wood, placing it under the soil to help store water for your plants. Here's how to build a bountiful hugelkultur bed.
If you don't have a lot of wood, you can still store water in your garden by shaping the garden. Swales are water storage troughs in your landscape. These troughs slow down water that would otherwise move out of your garden. Want to start to reshape your garden landscape?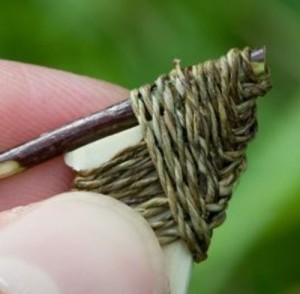 3. Grow Your Own Supplies
One area that I'm enjoying very much is the fusion of crafts and gardening, combining two of my very favorite things. Willow weaving allows you to build a living structure in your garden. Willow cuttings are very easy to root, and they'll grow anywhere that's a little moist. You can build living fences out of willow, create a basket from cut willow, or even design your child's playhouse! To get inspired by willow weaving, head over here.
If you have a lot of nettles, you might despair at the itchiness to come. However, stinging nettles are very useful once you've gotten past the sting. Their early spring leaves are nutritious, and the stalks that come later in the year can be harvested, dried, and turned into a natural rope (cordage). This is an easy project for older children!
4. Living on the Edge
Using and designing for edges is an important permaculture concept. Edges are rich and diverse. If you want diversity, building edges into your garden will help you do just that. Two venerable ideas for building edges? The keyhole bed allows you to access the middle of a bed, and it also builds more edges into your landscape design. The herb spiral creates multiple environments for your herbs that love different places to grow, and it's also a trailblazer in the edge department.
What projects are on your summer to do list? Please share!