February is International Hoof Care Month; and here at Mom Prepares, we have examined the best way to care for your hoofed animal's feet. We have discussed whether you can shoe your own animals, and what tools you need to keep your hooves healthy. Today, we discuss the issue of shoeing your horses versus allowing them to go barefoot.
Horses have been wearing some form of shoes for thousands of years. The first know use for shoes was in the 5th and 6th century. Asian warriors nailed bronze and iron shoes to horse's feet. Horse shoes continued to be used predominantly until horses were relegated to recreational use during the industrial revolution. Horseshoes were designed to protect a horse's feet from dangerous terrain, and to strengthen the hoof if the horse was worked a lot, or if the horse had weak hooves.
Although ancient, wild horses had strong hooves; some breeds of modern horses may not have hooves that can stand up to the pressures of frequent riding on rocky, sandy, or uneven terrain (although there is much debate about this among expert farriers).
Today, you will find horseshoes made from steel, iron, plastic, rubber, and aluminum. Different shoes are used for different purposes. But with the cost of shoeing a horse rising into the hundreds every few weeks, many animal owners question if their hoofed animals need shoes at all.
Do Your Horses Need Shoes?
Ask a farrier who believes in horseshoes and their answer will always be "yes" but another farrier who believes in the barefoot method will always say "no."
Summarizing both sides of the issue, it looks like many horses can definitely go without shoes, but only if their feet are cared for in the best way possible. Horses (and other hoofed animals) need a variety of surface textures to keep their hooves healthy. Diet also plays a huge role in hoof care, as does ensuring the hoof is sealed. Often, trimming the hoof excessively opens the hoof wall to infection, which can lead to a variety of problems that cause lameness. Some horses have thin, crumbling hoof walls, which make it harder for that horse to go barefoot. The Horse.com has an interesting debate about different views on barefoot horses.
Horses that have previously worn shoes may find it difficult or impossible to go barefoot. Keeping a barefoot horse's hooves healthy is a somewhat involved process that may actually take more care than if your horse wears shoes. You may have to have more frequent trimmings and carefully watch your horse's exercise habits, diet, and cleaning routine.
Pros and Cons of Shod Horses
There are some distinct advantages of shoeing your horses and other hoofed animals.
Shoes are easier on the rider.
Shoes can prevent bruising from long rides.
Shoes make the hoof temporarily stronger.
Shoes can support cracks and other hoof injuries while the hoof heals.
There are also some cons about horseshoes as well.
Shoes stress the horse's hooves and feet.
Nails damage the hoof wall and tissue of the horse's feet.
Poorly shod hooves can lead to lameness.
Pros and Cons of Barefoot Hooves
Barefoot hoofed animals also have some distinct advantages.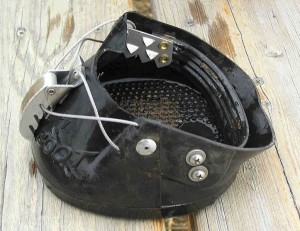 Barefoot hooves function normally and relieve pressure on the horse's legs.
Barefoot hooves improve the gait, sure-footedness, and brakeover of a horse.
Barefoot hooves may have fewer cases of lameness, thrush, and lower limb disease.
However, there are also disadvantages to barefoot hooves as well.
You will have to trim your hooves more frequently.
A poor trim could make your horse lame for several weeks.
If your horses already have shoes, transitioning to barefoot hooves can take a year or more.
Your horse may get bruised feet after long rides.
Interested in more info? There are lots of hoof care books you can read!
The Best Hoof Care Method for Your Animals
Should you put shoes on your horses? While it appears that most horses and hoofed animals can eventually go barefoot; the breed of horse, previous care method, and the health of your particular horse can all influence your horse's need for shoes. If you want to switch to the barefoot care method, consult with a qualified farrier in barefoot care to ensure you do not injure your horse even more by trying to go barefoot.
Do you use shoes on your horses? Why or why not?