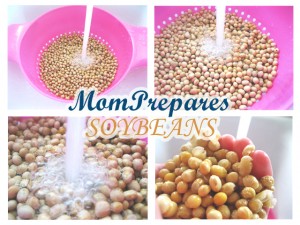 Have you ever wanted to buy soybeans at the bulk bins in Health Food stores, but you're not sure what you'd do with them? After all, they're pretty cheap ($1.50 per pound in their dried state at the Clark's Nutrition store near me) but would they taste good in anything? And how do you rehydrate them anyway?
If you're confused about what to do with your soybeans once you've bought them, read on to learn about rinsing, picking, soaking, and cooking soybeans.
Step One: Rinsing Your Soybeans
Before you can do anything with them, you must rinse your soybeans. To do this, scoop the soybeans into a medium-sized colander. (Remember, when they have finished soaking, the soybeans will have almost tripled in size, so before you get them wet, make sure you have the right amount of soybeans for your recipe. In other words, don't go overboard or you'll be eating beans for every meal for weeks!)
Next, put the colander full of beans in your sink, and run lukewarm water over them. As the water runs, put your hands into the soybeans, and under the running water, rub them gently so any dirt or skins will come off. Keep rinsing the soybeans for about 5 minutes, or until stuff stops coming off of them. It's kind of theraputic, so I tend to rinse for a while.
Step Two: Picking Your Soybeans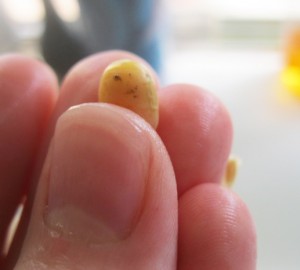 Have a large towel on the counter, all spread out, and very carefully dump the little guys onto the towel, spreading them out with your fingers. (Be careful! Soybeans are like miniature bouncy balls when they're dried, and they love to run and bounce away!) Once the soybeans are all spread out, it's time to pick through your soybeans.
Picking your soybeans means to look for the "bad eggs" of the batch. Although most of the beans will be fine, a few ugly little beans are very dark brown, spotted, or occasionally even black. What you want is to have some delicious soybeans without the ugly, not-as-tasty ones. You also want to check for random sticks, rocks, and pieces of corn, all of which I've found in my beans at one time or another. Basically look closely at the soybeans, turning them over with your fingers as you go, to see if any yucky beans are hiding. Depending on how many soybeans you've chosen, this process may take 2 minutes or ten.
Step Three: Soaking the Soybeans
Once you've finished picking out the bad beans, you only have one more step to take before you can cook those soybeans to your heart's content. This step usually takes the longest, because you're pretty much waiting for the soybeans to absorb water, and that takes a long time.
Just use your fingers to pick up the soybeans off of the towel, or pour them from the towel into a large bowl. Use a ratio of about 1 part soybeans to 3 parts empty bowl. Once you have all of the rinsed and picked soybeans into a large bowl, fill the bowl about halfway up with water. The soybeans do not need just enough water to cover them – there needs to be a ton of water in there. The reason they triple in size when rehydrated is because that other 2 thirds of soybean  is water, so, make sure that you have a ton of water in that bowl. Now, just wait while they soak. These babies have to soak for at least 8 hours, preferably rinsing every 2 hours within the first 4.
Step Four: Cooking your Soybeans
Your beans are rinsed, drained, soaked, and ready to go, but what are you going to do with them? Well, if you don't plan to make soymilk with them, you're going to cook 'em! When you're cooking soybeans, don't worry about overcooking them – they take HOURS to cook enough so that you can eat them. (Try cooking them in your slow cooker for about 5-8 hours on Low – they're perfectly mushy/cooked by the time the 5 hours is over – if you try to cook them in a regular pan, you'll still be cooking them long after supper is over, so be prepared.)
Once the soybeans are cooked, they make an excellent addition to Mexican casseroles, and can be substituted in place of pinto beans when making refried beans. They're great in chili, or in any other bean-related recipe. Use them however you want, in whichever recipes you like, but whatever you do: enjoy!
What's your favorite bean recipe?