Big Lots is one of the best discount stores – one of my favorite things in the world is when I discover discount "treasure" hidden in a pile of clearance, 5x less than the price on TV. One such recent case was when I found the Topsy Turvy Strawberry Planter at Big Lots for $2.99. (Unfortunately, a deal that great is very unusual but Amazon has some pretty good deals here.) If you're thinking about getting one, read this review before you make that investment in both time and money!
What On Earth Is It??
The Topsy Turvy Strawberry Planter (or TTSP for short) is basically a red, long plastic tube with green swirly decorations all over it. In the sides of the TTSP, there are holes or pockets, where the baby strawberry plants stick out. (And grow – theoretically) On the top, there is a removable lid so you can water it, and possibly grow herbs in the top soil. The bottom of the TTSP has a floor where the soil and water are (obviously) contained inside the planter.
What to Do with your TTSP
So – you understand what the Topsy Turvy is, but how does it work? First, drive to your local gardening center to see if they have any immature strawberry plants. Once you've picked out 5 or 6 plants to start with, purchase and carefully take them home. At home, or in your garden, remove the TTSP from its packaging and stretch it out to full capacity. Then, carefully fill the TTSP with a little bit of soil, just below the first row of holes on the side, and hang it up somewhere low enough that you can reach through the top. Next, place some strawberry plants in sideways through the growing holes. Keep adding dirt to support the plants as you go. Repeat the fill and insert steps until you run out of plants, or decide to stop. (I only filled mine with one layer) Your TTSP is ready to go, and all you need to do is consistently keep it hung up in a sunny place with plenty of water. (The instructions included in the box are more descriptive, so refer to them for further details.)
Do the Strawberries get Enough Sunshine?
Yes – IF (please pay attention to this IF) the Topsy Turvy Strawberry Planter is in the sun. The planter MUST be hung up (Preferably with a Topsy Turvy Plant Stand – another Big Lots bargain!) in a place with not too much sun, but not too little either.
Dry as a Desert or Moldy as a Marsh?
The question is – does the TTSP get too dry or (more likely) does the water sit at the bottom and become stagnant? Well, if you water it appropriately, just like with regular potted plants, the water will not collect or get moldy, and neither will the strawberry plants die of thirst. One of the cool things about the Topsy Turvy is that it's not watertight – you can overwater without worrying, since all that extra water's just going to drain right off. Beware of puddles under your berries though – water coming through the dirt and consistently dripping can leave stains on concrete and present a slipping hazard to little ones.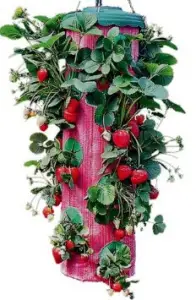 Overall Health and Happiness of the Strawberries
Yes, the Topsy Turvy Strawberry Planter functions according to the label's promises – it's harder for pests to crawl onto the plants and eat the fruit, and the plants grow tolerably well through the side. When watered and looked after, the plants thrive out of the side of the TTSP. The only problem I've noticed is that the plants don't produce very many berries, and the ones they do offer are very stingy and small. This may be due to the age of my strawberry plants though – they do need a few good years to mature enough to produce well.
Big Warning – for best results, you must twirl your planter every day, otherwise just one set of plants will get enough sun to produce! (Yes, this happened to me.)
Have you tried the Topsy Turvy Strawberry Planter?
I'm Lauren. Just a new mom trying to share her love for essential oils. Follow me on my journey to learning how I use EO's daily in my home.