Shade gardening: the complicated process of trying to get things to grow without sunlight. Living in Texas, nursery workers usually just stare blankly at you when you ask for plants that grow well in the shade, so I've had to figure out most of what works and doesn't work in our area by trial and error.
If you have a shady patch where you are trying to garden, you're in luck! I've scoured the Internet and found the best resources on tips for gardening in the shade, as well as some amazing shade gardens owned by fellow bloggers! And if you don't have a shaded garden, you may be inspired to try to find one after viewing these gorgeous gardens! These ideas will work whether you are trying to grow plants under a tree, on a patio, behind a building, or in any other area with limited sunlight.
Shade Gardening Basics
When it comes to shade gardening, there are typically two things to keep in mind. First, pay attention to how much light each plant does need. For example, some plants are classified as "shade" plants, but actually, require at least 4 hours of full sunlight. Watch out for those plants when you choose your shade varieties. Second, it is important to consider your region, particularly if you live in a hot area like I do. Many shade plants wilt under intense heat.
I love these shade gardening tips from Angela of The Untrained Housewife on colorful plants that work in the shade (I get bored of green) and her basic tips on shade container gardening.
The Best Plants to Grow in the Shade
What plants grow best in the shade will vary by region, of course, but many shade plants can grow across a variety of regions. We put together a list of some of the best plants to grow in the shade here at Mom Prepares, and for even more ideas, check out this list of 51 shade plants from A Way to Garden.  If you want to get even more adventurous, Angela has even written about the best tips for growing vegetables in the shade.
Keep it Simple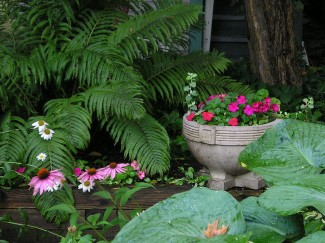 I believe that for the most part, simple gardening techniques are the best, whether you are growing your plants in the shade or in full sun. Birds and Blooms magazine put together a short checklist of 33 tips for making your shade garden journey even easier. My favorite tip is to work with the type of soil that you have rather than trying to add soil amendments to change the soil type. I've tried changing the soil in the past, and it usually doesn't end well.
You can make a garden work even in a small space. Learn how in this book: [sc:smspacegarden ].
[sc:media]
Easy Ways to Make Your Shade Garden Attractive
Shawna Coronado is a master shade gardener and has grown a full-scale garden in the shade for many years. Her tips on how to color block a shade garden are quite inspirational! I love how she has taken a standard vegetable garden to a new level by arranging the plants in a decorative way. Your garden can be beautiful and useful at the same time.
Do you have a shade garden? Share your gardening tips with us!