Storing your root crops during the cold months ahead will enable you to enjoy them all winter long. I know I wouldn't want to see my hard work frozen or left to rot over the winter when I could be making lovely stews, casseroles, and other tasty goods for my family instead. There are multiple ways you can store root crops for winter and make them last well into the next growing season. Having a basement or similar area to store them is best, but not always possible. Here are some ideas on how to protect your harvest this winter.
Packing Roots for Storage
You'll need some cardboard or wooden boxes and something for insulation; newspaper, sawdust, peat moss, or sand. Place a layer of insulation on the bottom of the box and then a single layer of your root crop (carrots, potatoes, beets, etc). Make sure the roots aren't touching the sides of the box. Cover the roots with a quarter inch of insulation, then another layer of roots, and so on until the box is filled. Make sure to leave enough room to have the top layer be a few inches of insulation. You don't want exposed roots at the top of the box. Also, it's best to store a single type of root in each box, instead of mixing and matching.
Learning to store your own produce is a great step on your journey to living a more self-sufficient lifestyle. If you're looking to learn more, we highly recommend [sc:getprep] by Robin Eggerton and Angela England!
Locations to Store Roots
A basement, root cellar, or other dark place is best. If you are using the basement of your home, place the boxes where it is cool, out of the way, and where they won't get wet. Root cellars can sometimes get a bit damp as well, so make sure to check your root boxes often. You might want to line the box or cover it with a plastic bag before layering in the insulation and roots. This will add a bit of water-proofing to your root box. Roots will last the longest in a cool, moist, dark area. The ideal temperature is around 34 degrees and humid. The only exception to this is onions. They will rot if the humidity is too high. You can also store your root box under your back porch, if you have a space, or wherever they won't get too warm and start sprouting. They need a constant cold temperature to make them last a long time.
Drying Root Crops
Dehydrating some of your root crops is another option. This method of preservation might be useful if you are very limited on space or if you just don't have anywhere to save your root crops over the winter. For most root crops, you need to cook or blanch them. The initial cooking or blanching time will vary between each type of root. It's best to find out the proper time before deciding to dehydrate any of them.
Leave Roots in the Ground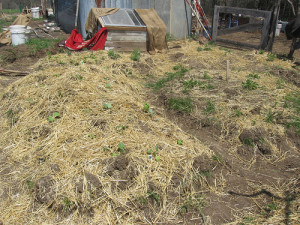 There is the option to leave many of your rooted goods in the ground, at least for a while. I've done this with carrots many times. Mulch, and lots of it, is the key to success here. Before the first hard frost, hoe the soil over any part of the exposed roots, such as on carrots or beets. You'll need to cover any roots that aren't considered to be cold tolerant. You can use loose straw or leaves or even some old blankets. As winter progresses, make sure to protect your root crops with the appropriate amount of mulch. In mild climates, you will only need a light layer of mulch. In regions further north, you'll need about a foot of mulch. You can go out and dig up roots right out of the garden as you need them. The only downfall to storing your root crops for winter with this method is the possibility of critters getting to your roots as well.
Additional Resources
Make a Trash Can Root Cellar
What types of root crops do you plant on storing this winter?