I come from the land of the evergreen. Boughs here are plentiful – find a place where someone is cutting down a tree, and it's likely an evergreen covered in gorgeous branches. Visit after a windstorm, and you'll find cones and branches littering the streets. If you have boughs galore, these evergreen stems and cones are lovely decorative items for your home at Christmas time, and they don't cost a thing.
Finding Cones and Boughs
If you're looking for cones and boughs, where do you find them? You can likely find them at a garden store, but let's look a little further. If you live in an area with many evergreens, search the streets after a storm. Ask on Craigslist to see if anyone is cutting down or trimming a tree. In December, head to a tree lot to see if there are any discarded or pruned branches. In the fall, pine trees drop their cones onto the ground – walk around with a bag and collect them, and you'll be a step ahead come winter time. Be wary of collecting in parks, as parks generally have a "please don't pick" policy. The easiest branches to work with are usually cedar and pine, as both have a lovely drape to them. The easiest and least sticky cones tend to be those of Western White Pine, if you can get them.
Crafting With Cones and Boughs
What can you create with cones and boughs? So much, and it's so pretty! Here are some ideas.

1. A Vase of Boughs or Cones
If you have many cones, place them in a clear glass vase surrounding a simple white candle, or alternate them with colorful balls for the tree. Or add sticks and branches to a vase and use them instead of flowers in the Christmas season. Take a look at the Creative Invites and Events blog for inspiration!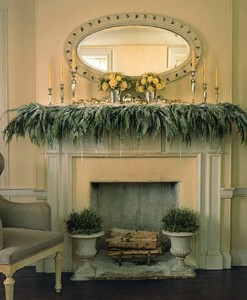 2. Mantle Decorations
If you have a barren mantle, place cones and boughs there. Add small Christmas decorations such as silver baubles, and add LED lights. You'll have a festive and fragrant mantle in no time! Be sure to only use LED lights, as incandescent bulbs could warm up dry branches, creating a fire hazard.

3. Decorate Your Stairway
Collect pine or cedar boughs together at the base, and attach them with a large ribbon. Tie one to each post of the stairway. This is also lovely on church pews. Thanks to Sheila Zeller Interiors for this simple red and green inspiration!

4. Make a Wreath
To make a simple wreath, branches that lie flat are best. I prefer cedar but will also use pine, as it has long needles. Take a wire coat hanger and use a small amount of thin wire to attach the bottom of a branch to the wire. Attach a branch every 4 inches or so along the coat hanger, wrapping the branches gently around the hanger and each other. Once you've reached the beginning again, add branches to disguise any blank parts of unsightly bits, then add a big bow to tie everything together. Add baubles, holly, and other ornaments as you wish.
If you're not feeling very ambitious but would like a wreath, gather together boughs at the base as you did on the stairway, and hang this on the door instead.

5. A Hostess Gift
How about a beautiful hostess gift of evergreen boughs and white roses? It's fragrant, delicate, and beautiful at the same time. This beauty is courtesy of Ticking and Toile's simple Christmas ideas.
6. Adorn Your Gifts
Tired of buying bows? Add a spring of evergreen to the top of your package, tie it together with raffia, and you have a natural decoration.

7. Hanging Baskets
If you have old hanging baskets left over from the summer, use them for winter cheer! Place evergreen boughs into the baskets, add some holly or other brightly-colored plants, and place them out on the porch again. 2 Green Thumbs Up created this beautiful and simple planter.
Are you decorating with cones and boughs this year? If so – take a bough – and let us know what you've been doing.