Raising sheep isn't something I've ever experienced. However, I have heard many stories from my mother about how much my great grandfather enjoyed raising them. I know he raised them for both meat and wool. I've done quite a bit of research and didn't realize how many different breeds there were. I also didn't know that there were certain types of sheep only bred for meat and others solely for wool. I've listed below the breeds suitable for a small prepper farm looking to raise sheep for both meat and wool production.
Rambouillet
These sheep have a strong flocking instinct, so they stay together instead of wandering off in different directions. The rams have long horns that stick out to the sides and curl slightly. Rams can weigh up to 300 pounds and ewes are generally closer to 200 pounds. This breed is great for people who have ranches with grasslands, instead of needing to haul in extra food to feed sheep. Ewes of this breed bond strongly with their young, are good milkers, and keep a close eye on their offspring too. In short; they make excellent mothers.
Border Leicesters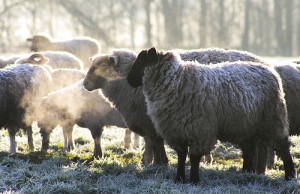 Leicesters, which come in a variety of colors, have wool that is sought after by wool spinners. They seem to like its crimp and luster and it's perfect for making heavy weight garments out of it. This breed of sheep is rather large, but very docile. A mature ram can weigh up to 390 pounds and a ewe can weigh up to 260 pounds. I love the way their ears stick upright, similar to a rabbit's. Lambs will produce about 4 pounds of wool at shearing, while a yearling will produce closer to 7 pounds of wool. Border Leicester lambs are active shortly after birth and can reach over 100 pounds during the first 4 months. This breed of hornless sheep is also known for their excellent foraging abilities.
Targhee
This breed is one of the youngest around today and are popular in the western states. These hornless sheep were developed in 1926 in Idaho and are a combination of Rambouillet, Lincoln, and Corriedale sheep. They have good meat production and heavy wool of medium quality. Rams can weigh between 200 and 300 pounds. Targhee ewes have great maternal skills. These ewes can weigh between 125 and 200 pounds and produce between 10 and 14 pounds of wool. The wool comes all the way up onto their heads and nearly covers their eyes.
Columbia
For those who want and all-American breed of sheep, this is the one. They were developed in 1912 by crossing Lincoln and Rambouillet sheep. The original reason for creating this type of sheep was to find a breed that would produce more wool, more lambs, and endure specific range conditions. Columbia sheep have hardy lambs that grow quickly and they also produce heavy, medium wool. This type of sheep will also do well on grasslands and need less feed.
So Many Sheep to Choose from!
There are multiple breeds of dual-purpose sheep out there, but I thought the four I mentioned above seemed to be the best suited for small farms. Things to consider before starting up a sheep herd of your own might be; how much land you have, the climate in which you live, and the food sources you have available already for your sheep. Whatever you decide…happy farming!
What are you looking for in a sheep breed?
Do you have a Monday Menagerie post to share? Link up here!