Queen Anne's Lace (Daucus Carota) is one of many umbelliferous plants that can be found growing around the world. Many people refer to this plant as the wild carrot and this plant offers a multitude of beneficial uses for us from medicine, to food, fabric dye and even an insecticide.
Wild Carrot
Wild carrot grows in many temperate regions around the world, far beyond its origins in the Mediterranean and Asia. It is suspected that ancient cultures in those regions used wild carrot as an herb and that the seeds were used medicinally. Many researchers tend to agree that the wild and early forms of the domesticated carrot were first used as a medicine before they were used as a root vegetable as we know the carrot today. In fact, there is genetic evidence proving that the domesticated carrot as we know it comes from Queen Anne's lace.
Both the wild and the cultivated carrots belong to the species Daucus carota. Wild carrot is distinguished by the name Daucus carota whereas domesticated carrot belongs to Daucus carota, sativus. In fact, if you grow regular carrots and you do not harvest them they will return the following spring as Queen Anne's lace.
Queen Anne's Lace as Food & Medicine
Early Europeans cultivated Queen Anne's lace and the Romans ate the root as a vegetable. According to research, this plant has a high sugar content (second only to beets among the root vegetables) and it was used as a sweetener among the Irish, Hindus, and Jews. The seeds have been used by many cultures as an aromatic flavoring in soups as well as other culinary dishes.
Wild Carrot leaves contain significant amounts of porphyrins, which stimulate the pituitary gland and lead to the release of increased levels of sex hormones. It has also been known to stimulate the uterus. Herbalists have used this plant to encourage delayed menstruation, induce uterine contractions and this means if you are pregnant, never use this plant as medicine.
Tip: Learn more about plants that are medicine: Broadleaf Plantain and Chickweed
Today the roots and flowers are collected and used in a variety of ways. Although roots should be harvested in the first year of growth the second year is fine as well (they'll be more wood-like). The first year roots can be eaten like a carrot although one of the favourite ways of using the root is roasting them. They can be consumed raw, cooked or roasted. After roasting the roots can be ground into a powder and used just like coffee in a coffee maker. Flowers can be harvested and used to make beverages and jellies. Two recipes are below. Some people have been known to candy them, batter them and cook or fry them up. Of course making a tea out of the flowers or roots is something they are useful for as well.
Tip: 8 Free Winter Teas You Can Make
According to botanist and herbalist James A. Duke, the Queen Anne's lace is loaded with amazing chemical constituents such as: alpha-tocopherol, ascorbic-acid, beta-carotene, camphor, chlorophyll, citric-acid, coumarin, fructose, gamma-linolenic-acid, glutamine, , kaempferol, linoleic-acid, lutein, lycopene, magnesium, manganese, niacin, oleic-acid, pantothenic-acid, pectin, phenylalanine, potassium, quercetin, sucrose, tryptophan, and a plethora of other vitamins and minerals.
Queen Anne's lace is known as: an analgesic, anti-arthritic, anti-depressant, anti-psychotic, anti-schizophrenic, anti-inflammatory, anti-bacterial, anti-flu, antihistaminic, antioxidant, and so much more.
Ongoing studies are proving Queen Anne's lace to be a valuable plant. It appears that is may be useful in helping to treat Alzheimer's, Crohn's disease, digestive issues, Parkinson's disease, infertility, cancer and diabetes.
There is not a doubt that this plant is a superfood. To learn how to identify this plant visit EdibleWildFood.com. The one thing to remember is that Queen Anne's lace stems are always hairy and poison hemlock's stems (a cousin) are not.
The best part about this plant is that it grows in abundance. No matter where you go there are hundreds of these growing out there. Queen Anne's lace is further evidence that weeds are indeed superfoods we should be incorporating them into our diet.
Tip: If you want to learn even more we recommend Karen's ebook Free Food from Foraging (Amazon)
.
Queen Anne's Lace Jelly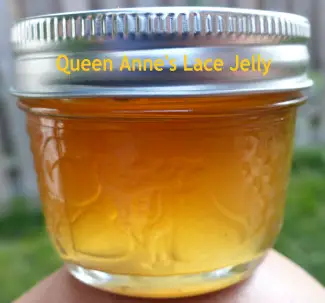 2 cups fresh Queen Anne's lace flowers
4 cups water
1/4 cup lemon juice
1 package powdered pectin
3 1/2 cups plus 2 tbsp. organic cane sugar
Bring water to boil. Remove from heat and let cool 5 minutes. Add flower heads and push them down into the water until fully covered. Cover and steep one half hour. Strain.
Measure 3 cups of the liquid into a pot. Add lemon juice and pectin. Stirring constantly, bring to a rolling boil. Add sugar and stir constantly. Cook and stir until mixture comes to a rolling boil then boil one minute longer. Remove from heat. Skim.
Pour into sterilized jars leaving 1/4" head space. Process in a hot water bath for 5 minutes.
Queen Anne's Lace Cordial
30 large Queen Anne's lace flowers
4 cups water
1/4 cup freshed-squeezed lemon juice (or nitrate-free lemon juice)
3 1/2 cups organic cane sugar
Bring water to boil and remove from heat. Add flower heads (push them down into the water).  Cover and steep 30-60 minutes. Strain. OR allow flowers to sit in water overnight then strain.
Add organic cane sugar and stir until dissolved. Add lemon juice.
Enjoy!
Sources: Duke, James A., Handbook of Alternative Cash Crops. CRC Press. 1993.; CarrotMuseum.com