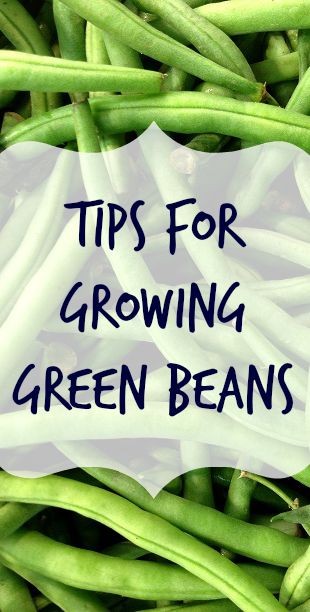 The great thing about green beans is, you don't have to have a green thumb to be able to grow them. They are easy to grow, fairly hardy, and just about fool-proof! Just give them plenty of room, water, and sunlight and you're off to a great start. Here are some tips for growing green beans.
Pole Beans vs Bush Beans
Before choosing a type of green bean to plant, you'll have to decide on whether you want pole beans or bush beans. This will depend on a few things; the amount of space you have available, how many beans you want to harvest, and what resources you have at your disposal. Pole beans produce a lot of beans in a small amount of space but will need a pole, fence, or trellis to climb on. Bush beans require no additional support, can be grown in a container and will produce fewer beans than the pole variety.
Learn more: Green beans are a good plant to have in a children's garden.
Planting Green Beans
Choose a sunny location and plant the beans 6 to 10 inches apart and a foot or 2 in between rows. If you decide to raise pole beans, you'll need to leave plenty of room for whatever contraption the plants will be climbing up. Make sure the soil is fertile, has good drainage, and plenty of compost mixed into it. Sowing should begin once the soil has warmed up and you don't have to worry about frost killing your newly emerged bean plants.
Learn more: DIY Trellis Ideas
Pests that Like Green Beans
Armyworms, leafminers, and cutworms are some of the more common caterpillars who enjoy munching on bean plants. Bean weevils, cucumber beetles, and stinkbugs also like to have bean plants for mealtime. Diatomaceous earth (Amazon) is a safe alternative to harsh chemicals and will take care of most pests, even slugs, and snails, who also have a taste for bean plants of all sorts. The best way to keep slugs and snails at bay is to prevent the ground from being too moist around your plants since that's the type of environment that attracts snails and slugs in the first place.
Green Bean Diseases
The main type of disease that seems to plague bean plants is caused by fungus. Alternaria leaf spot is present when small brown lesions form on bean leaves. This fungus can be battled with a fungicide. Anthracnose is identified by brown lesions on bean pods and there are actually varieties of beans available that are resistant to this type of fungus.
Root rot can be remedied by rotating out beans and planting crops resistant to root rot. Specific types of root rot are Black root rot and Fusarium root rot. Red-purple lesions can be seen on roots and stems when Black root rot is present. As for Fusarium root rot, young plants will have stunted growth and the roots will be severely decayed.
White mold can kill a branch of the bean plant or the entire plant. This fungus can survive in the soil for 5 years or more. It can be caused by infected seeds, contaminated water, or high humidity. Some varieties of beans are resistant to this type of mold as well.
Harvesting Green Beans
Beans are generally ready for harvest when the pods are still small and tender. If you wait until they are very large, they are often rather tough. However, if you are planning on saving some seeds for next year, then wait until the bean pods turn yellow and the seeds rattle inside. You'll be able to sell some of the beans and save the seeds over the winter for next spring's planting.
How to Grow Beans and Peas: Planting and Growing Organic Green Beans, Sugar Snap Peas, and Heirloom Dry Beans and Peas (Amazon)
Storing Green Beans
Dried beans can be stored in airtight jars, green beans can be cooked and frozen or canned, and shell beans (the ones that are too tough to eat in the pod, but not being left to dry out for next year's seeds) can be steamed, baked, or boiled and frozen or canned for later.
How to Cook Green Beans from Better Homes and Gardens is a great way to find out how to cook green beans on a stove or microwave, saute or steam them, or make a casserole out of them.
What types of green beans have you had success with? Which are your favorite varieties?