Diatomaceous Earth is one of the most common natural pest control substances known to gardeners and homesteaders. This fine white powder is the bane of insects everywhere! As a mother of two little boys, a pet owner, and an organic gardener it is very important to me that the pest control we use in our backyard is safe for the whole family. DE is by far my most-used organic pest control agent!
What is Diatomaceous Earth?
In short: ground up fossilized remains of tiny organisms.
From the National Pesticide Information Center:
Diatomaceous earth is made from the fossilized remains of tiny, aquatic organisms called diatoms. Their skeletons are made of a natural substance called silica. Over a long period of time, diatoms accumulated in the sediment of rivers, streams, lakes, and oceans. Today, silica deposits are mined from these areas. source
How Does Diatomaceous Earth Work?
While DE may look like powdered sugar, the tiny particles are actually quite abrasive. When a soft-skinned insect comes in contact with diatomaceous earth, the substance scratches their skin and causes them to dry out and die. The insects that aren't bothered externally are exterminated when the insect cleans itself and ingests the DE.
How to Use Diatomaceous Earth for Pest Control
When everything is dry, sprinkle DE liberally on problem areas. You can sprinkle directly on your plants, around the perimeter of your house, gardens, and yard, or even add to your chicken's dust bathing areas to help manage mites! When I lived on a farm we put it in our animal's feed. The scratchy dust won't bother a large mammal, so it's safe for them to ingest in small quantities, mixed with their feed, but you probably wouldn't want to have them inhaling large amounts as with any dusty substance, it could effect their breathing.
DE is safe to get on your skin. It's even safe to eat. I haven't consumed any personally, but many people do! If you're worried about consuming it after using it on your vegetable garden, just rinse your produce before eating it.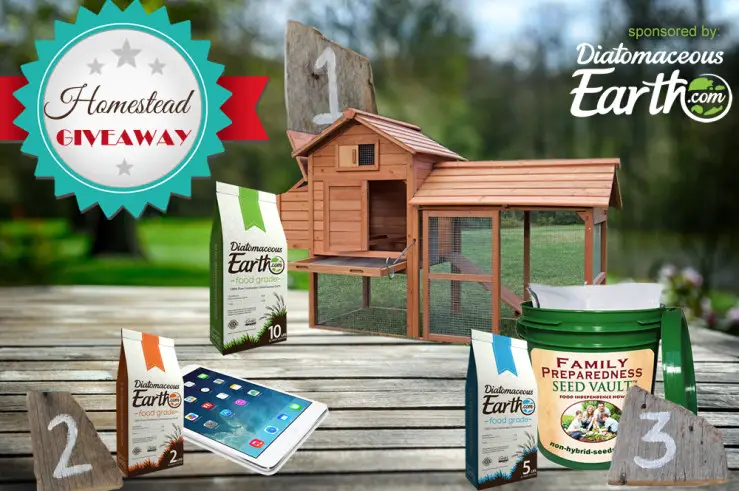 THIS GIVEAWAY IS CLOSED