Dehydrating produce is a cost-effective way to save your garden produce for future use. Additionally, dehydrated vegetables are perfect for storing for emergencies (and even make great gifts!), as they take up little storage space. Dehydrated vegetables are also perfect for camping trips when you don't want to waste space by packing whole vegetables.
This simple guide to commonly-dehydrated vegetables with tips from around the web can help you start your dehydration journey. For a brief comprehensive guide on how to dehydrate almost any garden vegetable, take a look at the Colorado State University Extension's dehydration tips. 
A Simple Guide to Dehydrating Garden Vegetables
Carrots
Carrots are one of the most popular foods to dehydrate. The easiest way to dehydrate carrots is to peel them, wash them, and blanch them. You can then dry them in the oven or a dehydrator (Amazon)
. Check out some carrot dehydration tips below:
How to Dehydrate Carrots- New Life on a Homestead
Onions
Onions are one of the most-used and easiest vegetables to dehydrate. Have you ever seen minced onions in the spice section? These are simply dried onions! Dehydrate onions by removing the skin, washing the onion, blanching it for 4 minutes in water, and then drying for 6-10 hours.
Healthy Raw Onion Rings- Rawmazing
Peppers
You can dry chili peppers and bell peppers using the same method. Cut peppers will dry faster than whole. Remove all core and seeds for best results. Blanch for 4 minutes and dry for about 12 hours.
How to Air Dry Peppers- Veggie Gardener
Dehydrated Bell Peppers- Barefoot in the Kitchen
Beans
If you dehydrate the beans after you cook them, you have instant beans with none of the long cook time of dried raw beans. Cook the beans until soft, but not mushy, and then dry for about 12 hours.
Dehydrating Cooked Beans and More- Real Food Living
Dehydrated Spicy Green Beans- Pickle Me Too
Dehydrated Bean Bark Recipe- Backpacking Chef
Herbs
Drying herbs can be done in a dehydrator, or simply in the air. In a dehydrator, it will take around 4-6 hours to dry the herbs, while it can take several days or weeks with air drying.
Preserving Herbs for Winter Use- Mother Earth Living
The Easiest Way to Preserve Herbs- Whole New Mom
Dehydrating Herbs- Apocalypse Survival
Squash
Dried squash makes a delicious snack, and it is easy to add in soups or side dishes any time of year. Blanch the squash for about 5 minutes, then dry for about 10-16 hours in a dehydrator or the oven.
No-Fry Butternut Squash Chip Recipe
Dehydrating Zucchini and Summer Squash (Chips and Shredded)
Dehydrating Foods – Zucchini Chips- Simply Canning
Tomatoes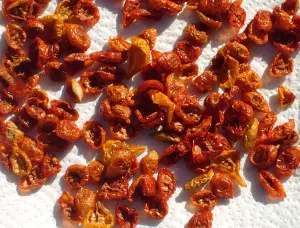 Tomatoes are delicious dried, and are the perfect addition to salads, soups, and as a garnish for any dish. You can dehydrate tomatoes in the oven, in a dehydrator, or in the sun. It can take as little as 6 hours to dry tomatoes in a dehydrator to several days in the sun. When the tomatoes are leathery and wrinkled, they are done.
Dehydrated Tomatoes- Real Food Forager
Dehydrated Food Recipes- Backpacking Chef
Oven Dried Tomatoes- Purple Foodie
How do you dehydrate your vegetables? What uses do you have for your dehydrated produce?
I personally love eating dried produce as an alternative to fried potato chips.
More Dehydrating Resources from Mom Prepares