Leftover bread should never be thrown out. If it's moldy? Sure, toss it in the compost or out to the pigs. But stale or un-wanted? Never! These thirteen ways to use leftover bread will help you not to waste and just may help you discover a new favorite meal or snack!
Recipes that Use Bread Scraps
The heels, the ends, the crusts no one wants? These things can be saved and turned into tasty treats!!
These look like a really simple and delicious snack that the kiddos will love! Never mind they won't eat the bread crusts when they're on the sandwich… these will be too good to pass up!
I'm a sucker for anything spinach and artichoke. I've even been known to sneak a few forbidden corn chips (I'm allergic) to eat the dip if someone orders it an appetizer. But this? It's the main dish and not only are there no forbidden ingredients, but there is also brie and cream.
Leftover or stale bread? You could feed it to the chickens. Or, you could make the world's best croutons! I save all my bread heels and stale bread to make croutons for salads, snacks and soup toppings.
Serve for breakfast or an appetizer! These look like a really tasty treat!
French bread can often be bought on clearance at the end of the day when it's no longer fresh and soft. If you've picked up some of these penny loaves, you're in luck, cause they make great pizzas and no one will ever know you made them with stale bread!
Fabulous French Toast Recipes
Who says French bread has to be made one slice at a time? In fact, some people like my friends Lesa (Overnight French Toast) and Julie (see the gluten free recipe at the bottom of this post!) make theirs the night before and bake it in the morning. Genius!
A classic French toast recipe and instructions. Served with real butter and maple syrup of course!
When I asked friends for their best recipes that use up leftover bread I knew I'd get a lot of french toast recipes. But, I never guessed I'd get three for a casserole style. And when I saw this one with the dried cranberries? I knew I had to share it!
A little different, and probably more along the lines of a classic french toast, this recipe looks easy to make. You might even get your teens to bake it for you and bring you breakfast in bed? Even if you can't, the crumble topping should make up for the effort of getting out of bed.
Bread Dips and Spreads
Did you know you can put stale bread in the toaster oven or your regular oven on high heat, for just a few seconds, and un-stale it? Yea. I made up a word. Anyway. The bread will probably be slightly crunchy and maybe a bit dry… not something you'd want for sandwiches, but absolutely perfect for dipping or slathering with your favorite spread!
This I have to try! I'm a huge fan of fondue, and while I'm not a fan of beer, I normally do like things that are cooked with beer. That malty flavor it leaves when the alcohol is cooked off is a flavor you don't get any other way. Now I need a really good baguette recipe…
This spread is beautiful and looks absolutely mouthwatering! It uses fresh fava beans and other natural and nutritional ingredients making it a very healthy treat!
Ways to Use Gluten Free Bread
And, for all of my friends who are gluten-free, here are some great recipes for you! I know, I know, you're thinking grilled cheese sounds boring and can be made from any kind of bread, but you know what? It's one of the best ways I know to use up stale bread or heels cause you're slathering it with butter and grilling it and stale… did somebody say stale? This stuff is delicious! Tip: When I make grilled cheese I turn the end of the heel in towards the middle… let the cheese hide it, and I put the butter on the other sides and grill. The kids have no idea they've just eaten the heel.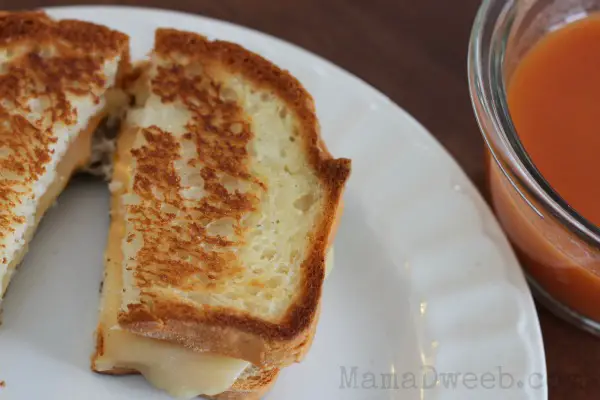 When it's cold outside, there's not much better than a bowl of homemade tomato soup and a grilled cheese sandwich! Annie's grilled cheese sandwiches use Udi's Gluten Free bread, but I'm sure you could make your own!
I love this recipe because you can do most of the work the night before, making breakfast time when everyone's rushing around to get ready for school and work, so much easier!
I'm not gluten-free, but I'd eat this!! It looks so light and heavenly!!! Ok, enough with the exclamation marks…
What do you make with leftover bread?