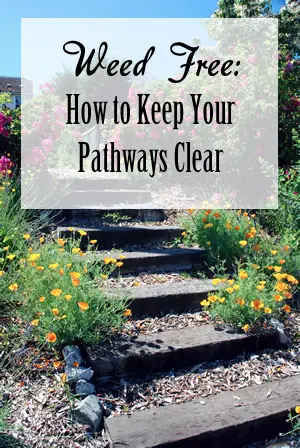 What is a weed? It's a plant that's growing in a place you don't want it to grow. Often, pathways seem to be weed magnets. When you think about it ecologically, you'll see why.
You see, pathways are places where your garden plants have been disturbed, and weeds are tough plants that do very well on the edges. They like places where the soil has been disturbed and where light shines in. If you had to create an ideal home for a weed, a path would be it. Some plants that grow in these conditions actually add nitrogen to the soil, helping new plants grow.
But in all likelihood, you don't want those plants crowding your pathways. How can you create relatively weed-free pathways and make those areas easier to maintain in the first place?
Get Ready for Success
Prepare the ground before you add a pathway. Add cardboard or landscaping cloth under the pathway material to suppress weeds. Be aware that this will only last for a little while. Over time, as leaves and other debris fall onto the path, a new layer of soil will form, and you'll discover weeds growing in that as well.
Pathways are often made of gravel or bark mulch. It can be hard to dig down into these pathways to remove weeds. Consider other types of pathways that are easier to weed as well. Use large stepping stones or grow a groundcover like thyme.
Use Plants to Keep Your Pathways Weed Free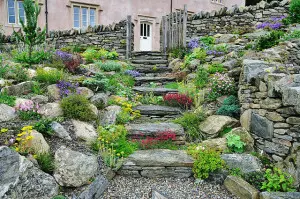 Grow a lot of plants in different layers. Have a groundcover under your rose bush, and place a shorter, shade-loving fern in the middle.
Use up the space. Grow edging plants like alyssum and lobelia along your pathway's borders.
Choose your weeds. Place plants that love disturbed areas next to your pathway's edges. Take a cue from the areas around your home where plants grow wild. Mint, fireweed, and other somewhat weedy plants will thrive there, and if you enjoy seeing them, they're not weeds.
Good Gardening Practices
Avoid tilling the soil under or next to your path if at all possible. To make soil, mulch instead. Turning over the soil exposes tiny weed seeds to sunlight, and this encourages them to grow.
Some weeds are hard to get out. The best time to remove buttercups and other plants with tough root systems is to wait until they come out in the spring. When the ground is soft, head outside with a dandelion fork and wrestle it under the buttercup's roots, pulling out the entire plant. Sometimes if the ground is very soft, you can simply pull out the weeds.
Finally, use your pathways. Constant foot traffic will make it hard for weeds to take hold. If you find that you're not using a path, consider removing it and turn the pathway into another garden area.
How Do You Keep Your Garden Paths Clear?